Malta SIR Director shares insights on local luxury property market
18th September 2015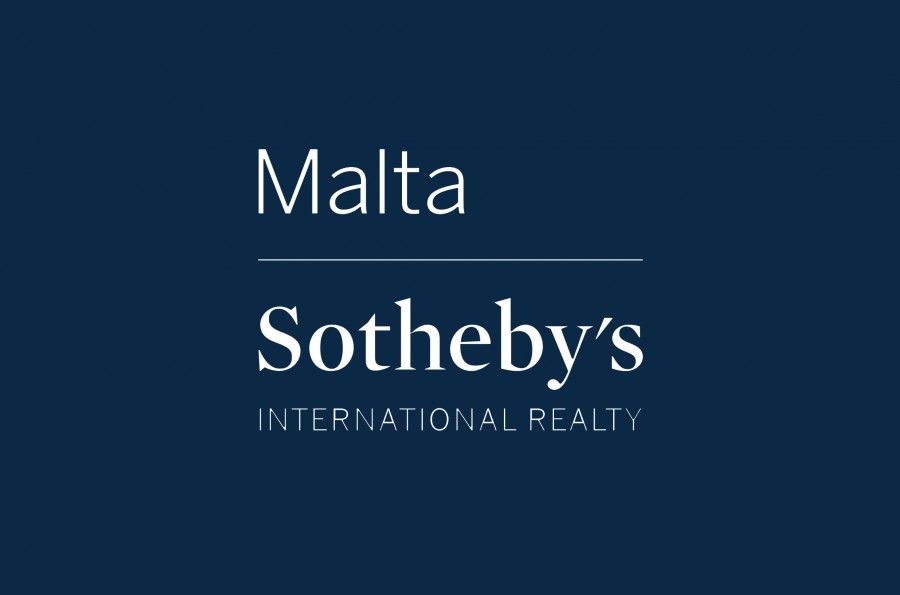 In an interview given to Expat Focus, Malta Sotheby's International Realty Director & Joint Owner Michael J Zammit commented about the worldwide luxury brand's positioning on the local market and gave his insights about the local real estate market and how to best approach real estate locally if you're a foreigner looking to buy. Here are the main points from the interview, introducing the company and looking back on its success story so far, summing up the key points about the local real estate market, some tips, trends and projections about the market in the near future – as highlighted by Michael as Director of the Malta office.
---
Sotheby's International Realty in Malta
Michael joined his father's business five years after it was up and running. After branching out from credit management and recruitment services, CSB Group became established as a 'one-stop shop' for foreigners looking to relocate and/or set up their business in Malta. The Group moved on to attract Sotheby's International Realty brand as an investment in this wider development.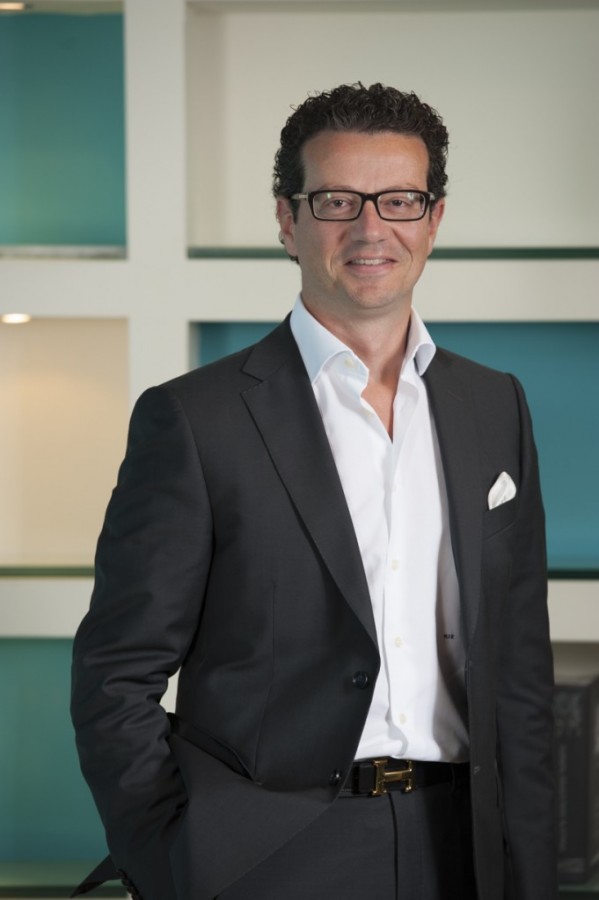 Michael J. Zammit | Malta Sotheby's International Realty Director & Joint Owner
The setting up of the brand in Malta is aimed for highly qualified buyers who have set eyes on the Maltese real estate market, as it strives to act as a full-service agency serving the high-end sector of the market across the Maltese Islands. This is possible due to CSB Group's years of experience with an international portfolio of clients in complementary sectors over the years. The Malta office was inaugurated in 2013 and so far the company has achieved numerous milestones, including one of its most successful sales this year.
The Maltese property market in 2015
When asked to comment about the local property market and give some projections for the remaining months, Malta Sotheby's Realty Director highlighted the continuously rising figures on Malta's property market in terms of value and property prices. Malta registered one of the highest rises in prices across the EU with an 11% increase. From a wider perspective, the latest international luxury real estate report published by Wealth-X in collaboration with Sotheby's International Realty demonstrates that increased demand for luxury residential property is indeed a global phenomenon. Wealthy individuals are looking for alternative locations in which to invest as a way of diversifying their assets and gain citizenship rights. It is interesting to know that Malta was also individually featured on this report and deemed to be a "good long-term investment", particularly due to its citizenship programme coupled with a strong economic and social growth.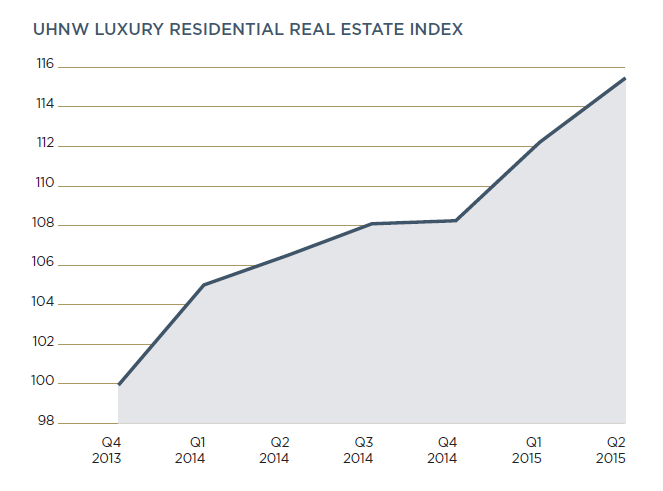 In Q2 2015, the UHNW Residential Real Estate Index rose to 115.2, surpassing
its previous high in Q1 2015 of 112.1.
This scenario sets the pace for demand to remain high, particularly from the foreign front. Those who are interested to invest in property, both as a residence and a rental investment will be keeping an eye out for good value buys on the higher end market. Demand for rentals is booming at the moment, as more and more foreigners living here are seeking out this accommodation option.
Market "hotspots"
Although preferred location is much subject to the lifestyle that the individual is after, certain locations repeatedly stand out over others.
Sliema, St. Julian's
and even
Swieqi
are the areas most sought after by those who like to step out of their home and find themselves in the midst of the island's major activities and often within walking distance of their workplace and all services and amenities. Most business, leisure and tourist activity is centered here, while transport links to anywhere around the island are regular and frequent. The market is responding by a very strong supply of modern and fully serviced rental accommodation, which further churns demand. The presence of luxury lifestyle developments such as
Tigné Point
in Sliema and
Portomaso
in St. Julian's further stimulates demand. Someone who is after something more laid back and treasures privacy and tranquillity would most likely opt for a countryside residence in one of Malta's traditional villages such as
Żebbuġ, Rabat
and
Naxxar
or in a sought after peaceful countryside area such as
Madliena
or
Baħar iċ-Ċagħaq
.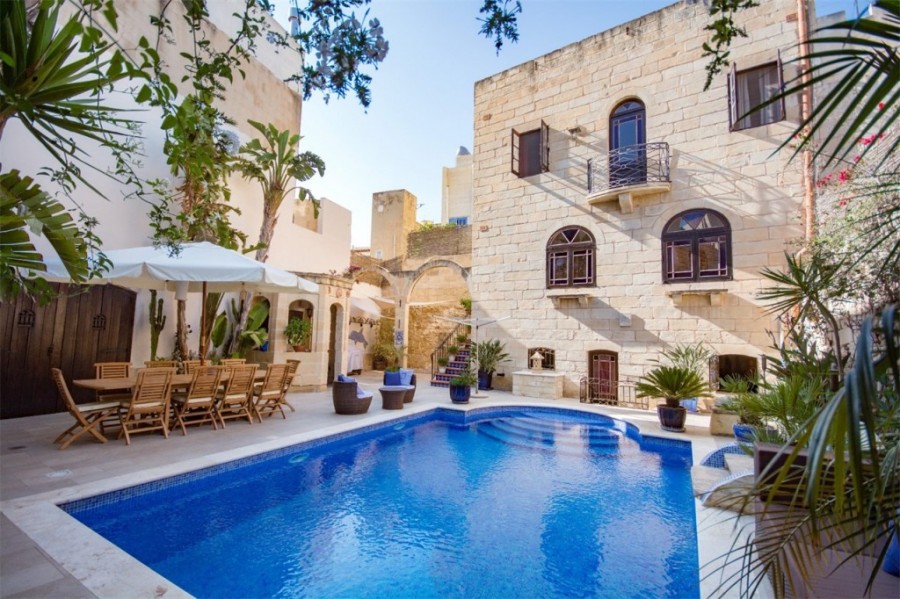 For Sale Exclusively with Malta SIR: Converted Farmhouse in the Traditional Village of Naxxar | € 1,250,000 
An interesting spot to look out for is Malta's capital city of
Valletta
. Following the completion of Renzo Piano's city gate project, the city got a major face lift and experienced a real boost in its artistic and cultural scene. This means that more business and visitors are flocking towards the city, particularly as it already enjoys the status of Malta's administrative capital and looks forward to host the European Capital of Culture events in 2018. With all this happening, many landowners are restoring the centuries-old buildings full of character and renovating them into remarkable city homes. This market has recently rapidly starting picking up and as it is still gaining momentum, the present time would be ideal to invest in this market.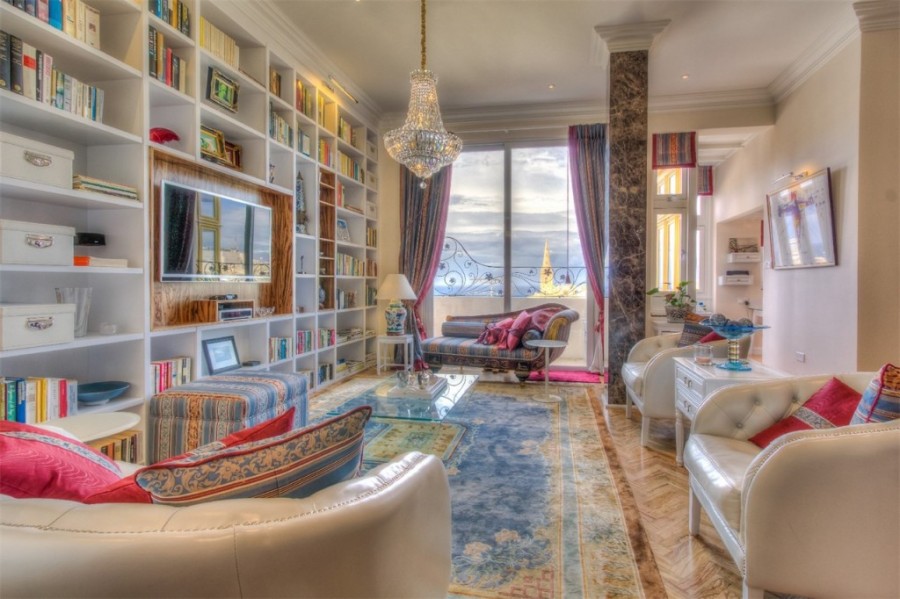 Artfully Modelled City Apartment For Sale in Valletta | € 980,000 
Advice to expats looking to buy
Not knowing the ins and outs of the market is perhaps the most eminent challenge faced by expats looking to buy property in Malta – What to buy? What not to buy? What are the lcoal trends? In addition, relocating and moving overseas is a lengthy procedure requiring the individual's attention to be split on a lot of other things. It is advisable to seek the expertise of a local, reputable real estate agent who would have the ability to understand one's requirements and 'shop around' for a local property that matches the individual's tastes and requirements. Agents are also able, most times, to offer other property-related advise such as what the buying procedure entails and point the client in the right direction to facilitate this process. It is always important to do one's own research and familiarise oneself with the local market's offering as well as any rules and regulations that may be applicable. It helps to have at least a clear idea of what to expect in order to be able to make an informed choice.
---
Malta SIR also features weekly market spotlights focusing on a particular aspect of the local market, intended to provide users with insightful knowledge about the local market and its current trends. Catch the latest one about Portomaso luxury development here and watch out for the next one!
For more information about buying property in Malta, Malta Sotheby's International Realty's Office is situated on 200, Tower Road in Sliema and can be reached via telephone on (+356) 2010 8070, email on info@maltasothebysrealty.com or through our website.
Back to Archive
Share this Article