Market Spotlight: Gozo, Malta's Sister Island
31st July 2015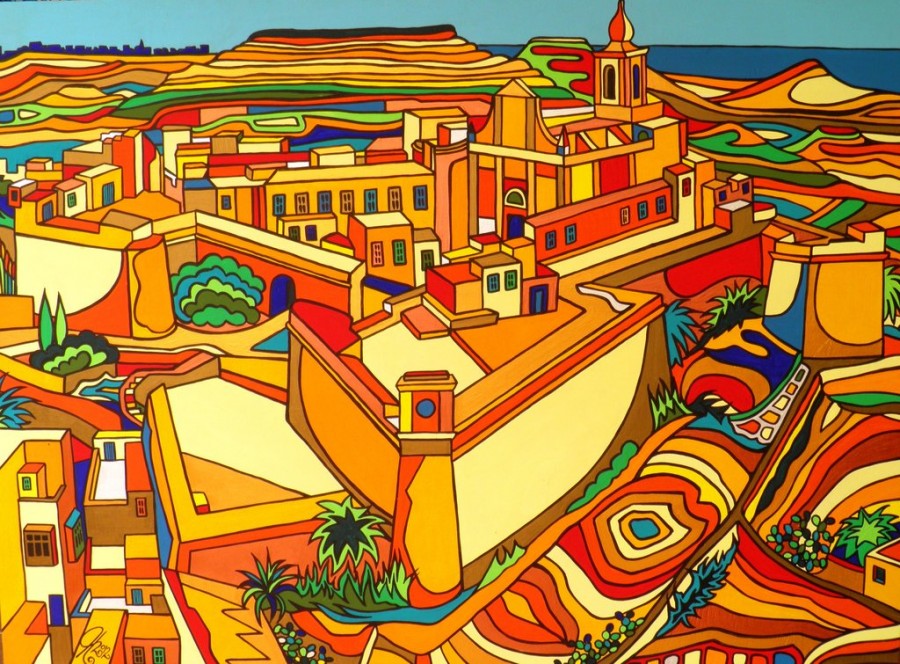 Although significantly smaller in size and population, Malta's sister island of Gozo nonetheless boasts a unique character and distinctive touristic and lifestyle offering. Located just a 20-minute ferry ride to Malta's north west, it is very easy to fall in love with the island's charm and idyllic setting. Due to its small population of just over 30,000 inhabitants, Gozo's landscapes are mainly characterised by green countryside views spanning all the way to the seashore and scattered with church domes representing laid-back village life. Such sights inevitably evoke a certain rustic charm and nostalgic feel that creates a pleasant contrast with the hustle and bustle of busier places in Malta and elsewhere.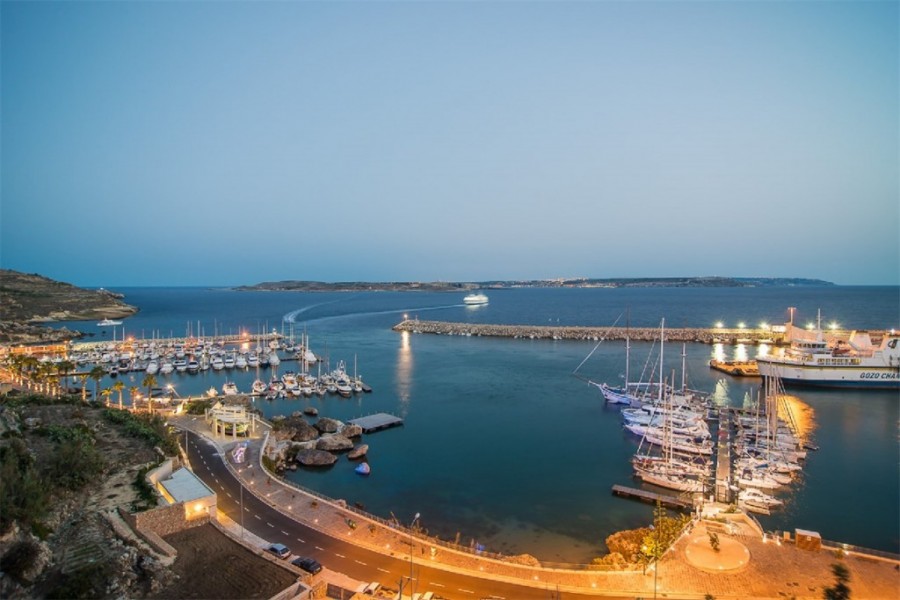 Stunning view of Mġarr harbour, Gozo, by night
A tasteful blend of tranquillity and thriving tourism
In fact, several Maltese people and foreigners alike retreat to Gozo for their weekend getaways, particularly during the summer months. The tranquil surroundings and friendly Gozitans create the ideal atmosphere where one can enjoy peace of mind and uninterrupted relaxation time. Yet, although time often seems to move slower here, Gozo's tourism industry is thriving and the island is far from short of leisurely activities that one can pursue. It is great to see that both public and private sectors are investing in Gozo's high quality product. The island's shopping centres are mainly located in the capital of Victoria. Here one can also find the famous Citadella – Gozo's walled city where restoration and archaeological works are currently being carried out, and stumble across a colourful array of food establishments and bars. Other seaside villages such as Imġarr, Marsalforn and Xlendi also offer a tasteful dining and night out experience that ought not to be missed.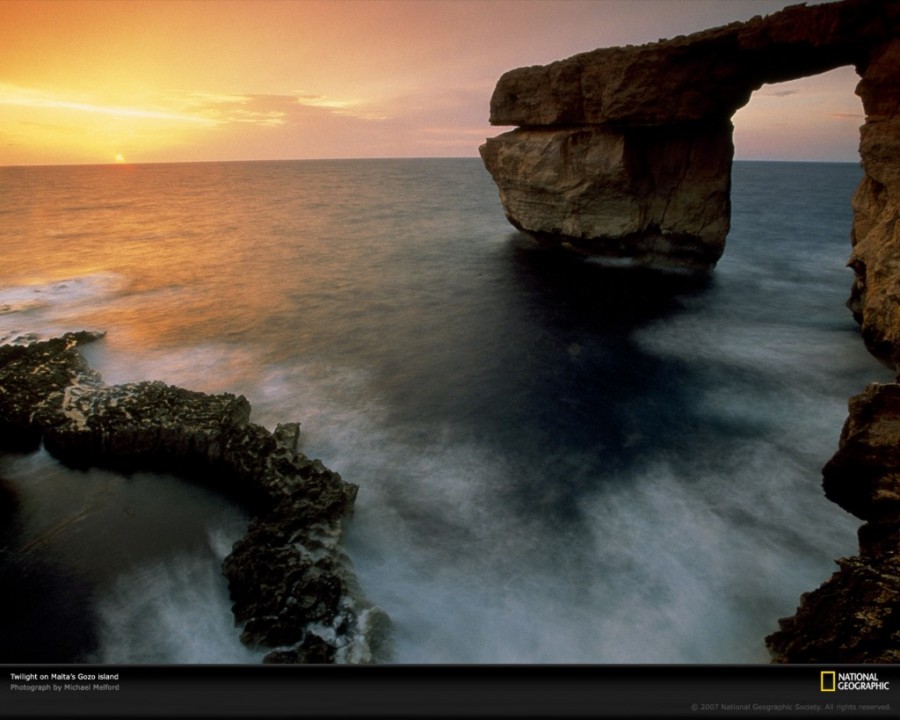 The famous Azure Window in Gozo as portrayed by National Geographic
In addition, due to its bucolic countryside and long history, Gozo's offering distinguishes itself through legendary landmarks such as the renowned Azure Window and Ġgantija Temples, the oldest free-standing structures in the world as well as the sensational nature walks through the refreshing countryside. Its stunning scenery has also managed to attract the film industry and turn the island into a filming location for its sheer beauty.
Good reasons to invest in property in Gozo
Gozo's product makes it ideally positioned for short stays, particularly over the weekend. Although the island's perimeter can be easily traced in the span of a couple of days, the captivating island feel compels locals and tourists alike to keep coming back and discover something new each time. Moreover, very short travelling time to anywhere on the island makes getting around even more convenient.  For this reason, many Maltese as well as foreigners seek to acquire residential property in Gozo and deem it to be a good investment. Particularly since property in Gozo is still relatively moderately priced and demand for rental is high, purchasing a property in Gozo as a rental investment is most often an excellent idea and yields desirable returns. The island is also deemed to be an extremely safe location, therefore one would not really need to worry about going away and leaving their property unguarded. In addition, the Gozitan real estate market is also highly varied and caters for an array of individual tastes and requirements.
Gozo's real estate market offering
Characteristic farmhouses make for a truly unique product offering and are highly sought after for their unique charm and traditional architectural features. These are often enhanced with ample outside entertaining areas with swimming pool and dining areas, enjoying total privacy and seclusion. Modern apartments and villas are also highly available across numerous villages around the island. Apartments are smaller, yet comfortable and are ideal even as a pied-a-terre, whilst villas will naturally benefit from more space and often enjoy outside entertaining areas with swimming pool. Despite Gozo's rural appeal, the touch of luxury has started permeating the island and demand for luxury residential real estate and boutique accommodation is on the rise even here. Those in search of luxury lifestyle often look to invest in a property situated within a lifestyle development, such as Fort Chambray.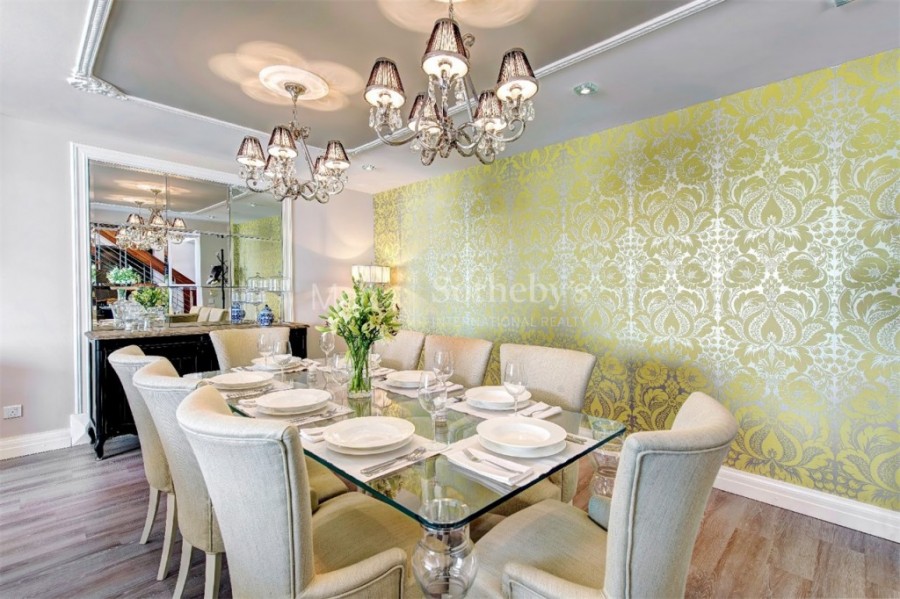 Luxurious villa located within Fort Chambray lifestyle development | €1,400,000 
Property located here comes highly finished and luxuriously furnished and benefits from a highly landscaped surrounding environment with communal pool as well as some of the most stunning island views to be enjoyed from a prominent location. In many instances, the buyer also has the possibility of requesting customised finishing.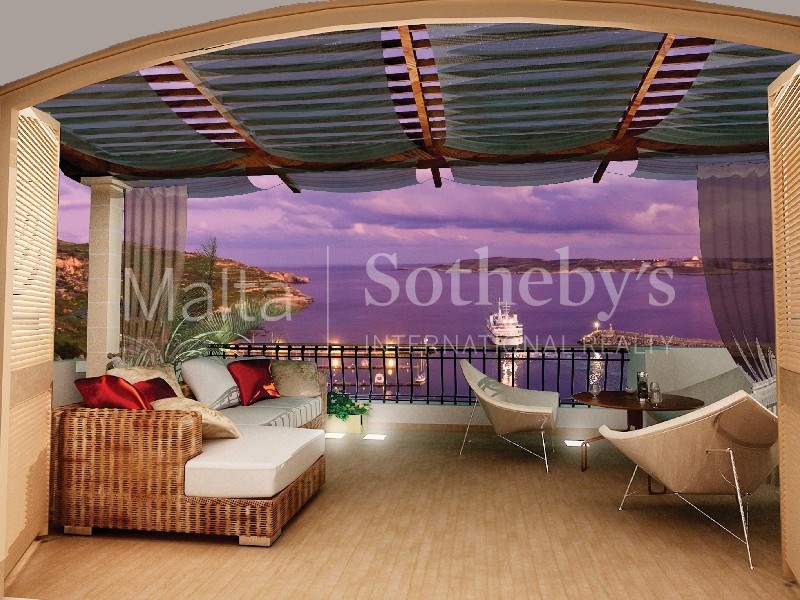 Breath taking view from apartment located within Mġarr luxury development | €800,000
With such a solid profile that has captivated even greats such as Brad Pitt and Angelina Jolie, Gozo's potential and offering is surely not to be underestimated and will continue to grow and make a name for itself out there. No one is to be blamed for wanting to stay here and live the dream.
---
For more information about property investments in Gozo, kindly direct your request to info@maltasothebysrealty.com or visit our website. One of our agents will gladly assist you. 
Back to Archive
Share this Article