Malta Sotheby's International Realty Presents Their Property Portfolio Magazine – Volume VII: Celebrating 10 Years of Excellence
21st July 2023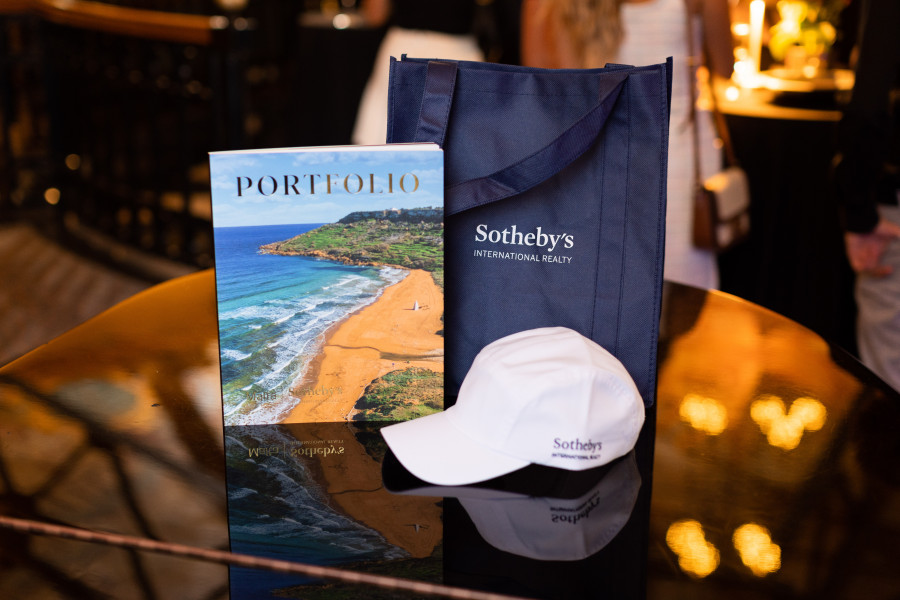 Immerse yourself in the sheer magnificence of Malta's most prestigious properties as Malta Sotheby's International Realty proudly unveils their Portfolio Magazine - Volume VII. With its handpicked selection of exquisite properties, exclusive lifestyle content, and insights from renowned experts, the magazine sets the stage for an extraordinary journey into the world of opulence and sophisticated living.

Over the past decade, Malta Sotheby's International Realty has established itself as the leader in luxury real estate – renowned for their integrity, professionalism, and an exceptional eye for detail, when artfully curating the prestigious properties, they represent.
This latest anniversary edition of the Portfolio Magazine takes it to new heights, with the Portfolio offering not only a selection of exquisite properties but also a unique glimpse into the history, culture and international business practices of Malta - highlighting exactly why this archipelago has long been known as the "Jewel of the Mediterranean." 


"Our 10 Year Anniversary Edition of the Portfolio Magazine, is a bespoke collection of captivating properties, lifestyle, and business content, that represents the pinnacle of refined taste. Each page is a testament to our unwavering commitment to excellence and our dedication to providing our discerning clients with an unrivalled experience," says Malta Sotheby's International Realty Director and Joint Owner, Michael J. Zammit
The Malta Sotheby's International Realty Portfolio Magazine is 128 pages of pure opulence showcasing some of the most extraordinary locations in Malta. Highlighting citizenship and investment options, high-end business solutions, and incredible lifestyle content that is sure to captivate and delight readers.

This prestigious publication, distributed through Malta Sotheby's International Realty's extensive network, graces the hands of prominent businesses, property developers, esteemed embassies, and carefully curated local partners - reaching beyond the shores of Malta, embracing a worldwide audience of luxury connoisseurs and influential buyers, including the homes of international VIP clients by utilising the brands global network of 1,075 offices spanning more than 81 countries and territories.

"The Sotheby's International Realty's global network unlocks a world of opportunity for our esteemed clientele and this special edition of the Portfolio unveils an exclusive selection of properties that not only entice local buyers but also captures the attention of high-net-worth individuals and investors worldwide. By connecting remarkable properties with a global audience, the magazine offers an unparalleled platform for high-end real estate investment and international lifestyle exploration," explains Zammit.
More than just your average property magazine the Portfolio is a testament to the brand's unwavering commitment to innovation, and global excellence for the past 10 Years. Delve into the pages of the Portfolio and discover the art of winemaking, uncover bespoke stays at a five-star hotel or plunge yourself into the world of art. Whatever your interest, the brand invites you to explore the world of luxury living in Malta.


"We extend our sincere gratitude for your support over the past decade, and we look forward to continuing this journey of excellence with you. As we look to the future, we are excited to build on our achievements, paving the way as your leader in luxury real estate - representing incredible properties and providing exceptional services - besides differentiating ourselves when finding the home of your dreams," concludes Zammit.

To immerse yourself in the extraordinary world of luxury and secure your own copy of Portfolio - Volume VII, simply visit the brands webpage on www.maltasothebysrealty.com/portfolio and sign up to receive your complimentary copy.
Alternatively, if you have a property you would like to sell, get in touch with Malta Sotheby's International Realty to list your property and enjoy an unrivalled marketing experience. Contact them on +356 2010 8077, view their website on www.maltasothebysrealty.com or visit them at their officed located on the Portomaso Marina and the Tigne Point Pjazza.
Malta Sotheby's International Realty – Artfully uniting extraordinary homes with extraordinary lives.
Back to Archive
Share this Article