Malta SIR Office & Team, Malta Luxury Real Estate News
18th January 2016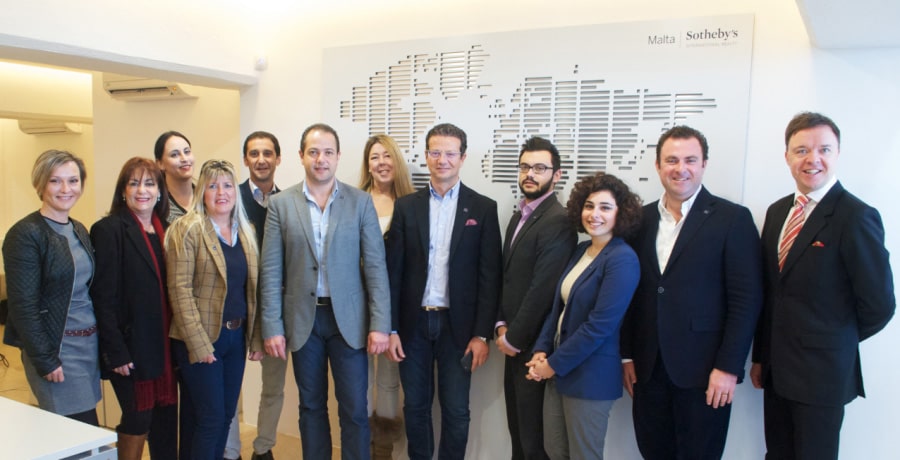 Malta SIR Holds Training with Regional Director of Marketing to Kickstart 2016
The Malta Sotheby's International Realty (SIR) team was thrilled to host David Russell in Malta for a training seminar involving all the members of
the Malta office
. David Russell is SIR Affiliates' Director of Marketing responsible for the European, Middle Eastern and African (EMEA) regions and he delivered various sessions over one day, covering the various aspects of the Sotheby's Realty luxury real estate brand presence in Malta and insights about the local luxury real estate market.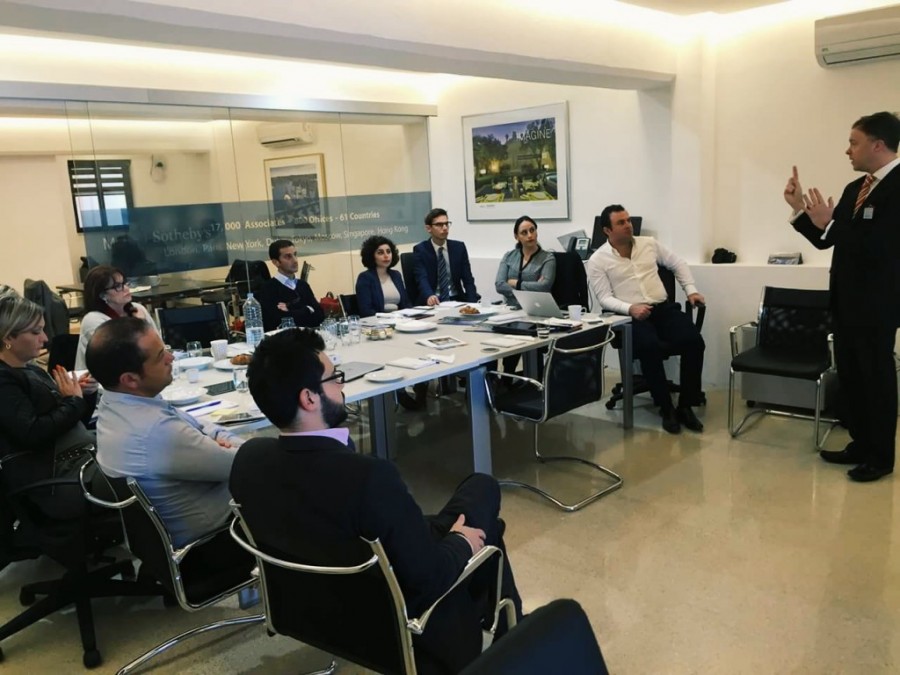 All members of the Malta SIR office - including directors, managers, marketing team and associates - during luxury brand training with David Russell (presenting)
The team kicked off the new year 2016 with renewed energy, first and foremost by looking back onto a highly successful year in 2015 - both from a global brand perspective as well as on the local level. Malta SIR General Manager Miguel Bonello said that 2015's positive figures clearly demonstrated how the brand's positioning and visibility on a global level help leverage Malta SIR's service locally.
---
Unparalleled marketing efforts and pro-active online campaigning
Malta SIR Marketing Manager Diane Borg Bascetta said that through the brand's marketing efforts internationally, the Malta office is able to offer unparalleled and targeted visibility on a global level to local properties on notable media powerhouses such as Apple News, The New York Times, The Wall Street Journal, Google, Architectural Digest, Bloomberg.com, the Hong Kong Tatler and the Financial Times among others, thus significantly increasing sales opportunities for property owners.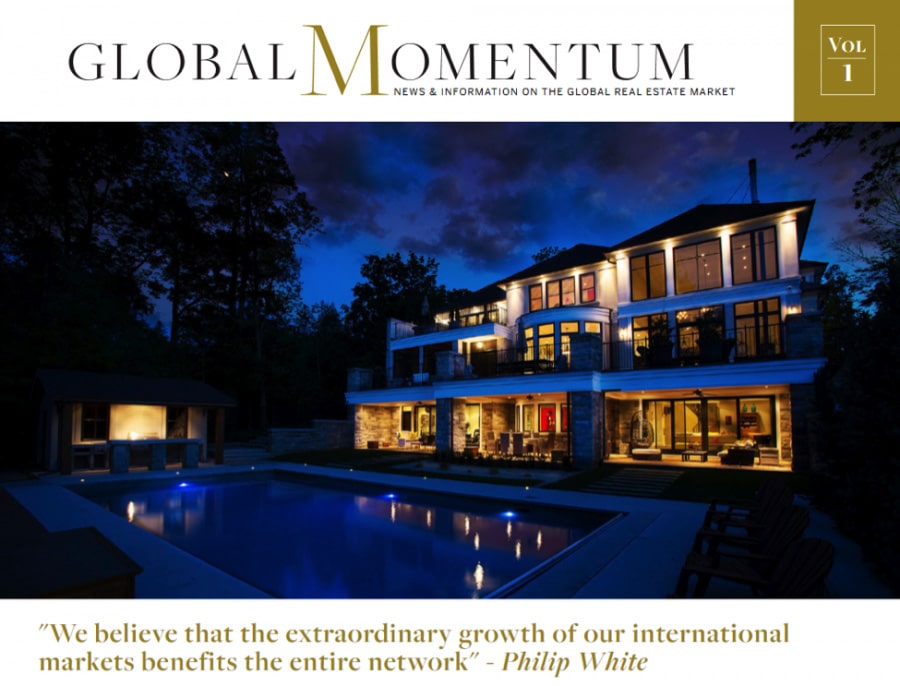 The Malta office is able to offer local properties unparalleled and targeted visibility on a global level on notable media powerhouses, through the luxury brand.
Other than pro-active online campaigning in today's digital age, which is incredibly important, one of Malta SIR's strengths undoubtedly lies in being part of a powerful network of affiliates, physically present in over 61 countries and territories worldwide. The ultimate strength of the brand lies in the people representing it and upholding the brand's values of quality, service and expertise in the area of luxury.
Malta SIR's team of associates
, throughout the session, were able to familiarise themselves with the core values of the brand, the tools offered, and take away valuable points that will help them distinguish themselves and excel in the level of service offered to their clients.
---
Vision, passion and momentum in abundance - Malta SIR
The training session enabled the whole team across the board – directors, management, marketing and associates alike to discuss and share their ideas in order to draw a holistic approach and a practical strategy for 2016 to make this the best year yet and keep expanding. Commenting about his visit to Malta, David Russell praised the Malta SIR office for their "vision, passion and momentum in abundance." Last November, Malta SIR celebrated the extension of its office on 200, Tower Road in Sliema as well as expanded its team. The vision for the coming year is to keep moving in this direction through innovative ways of servicing the local market and 'uniting extraordinary properties with extraordinary lives'.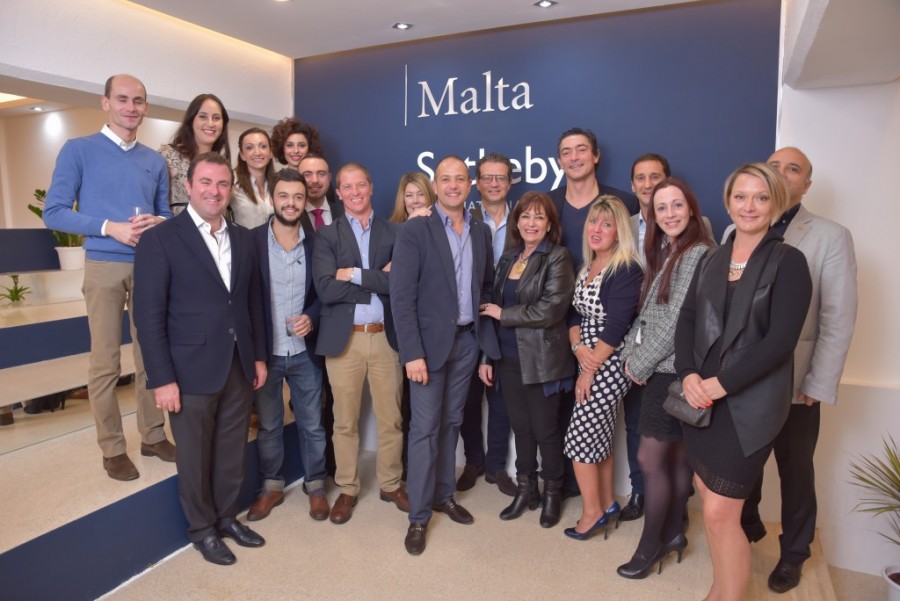 Malta SIR celebrating the office extension event held in November 2015
Malta Sotheby's International Realty listings
are marketed on the sothebysrealty.com global website. In addition to the referral opportunities and widened exposure generated from this source, the firm's brokers and their clients benefit from an association with the Sotheby's auction house and worldwide Sotheby's International Realty marketing programs. Each office is independently owned and operated.
---
About Malta Sotheby's International Realty
Malta Sotheby's International Realty aims to serve the high-end
residential
and
commercial
real estate market, representing lifestyle properties of exceptional quality and unique characteristics. A brand that represents quality and luxury, its presence in Malta serves international clients looking for high-end real estate investment in Malta and Gozo, and local clients seeking real estate investment opportunities worldwide through our international network. Services include: Residential Sales & Letting, Commercial Sales & Letting, Property Management and Relocation & Residency.
---
About Sotheby's International Realty Affiliates LLC
The
Sotheby's International Realty
network currently has over 17,000 sales associates located in approximately 700 offices in 61 countries and territories worldwide. Founded in 1976 to provide independent brokerages with a powerful marketing and referral program for luxury listings, the
Sotheby's International Realty
network was designed to connect the finest independent real estate companies to the most prestigious clientele in the world.
For more information, kindly direct your request to info@maltasothebysrealty.com.
Back to Archive
Share this Article