Luxury Lifestyles: Waterfront Living
Malta Luxury Real Estate News, Luxury Lifestyle & Design News, International Real Estate News
15th April 2016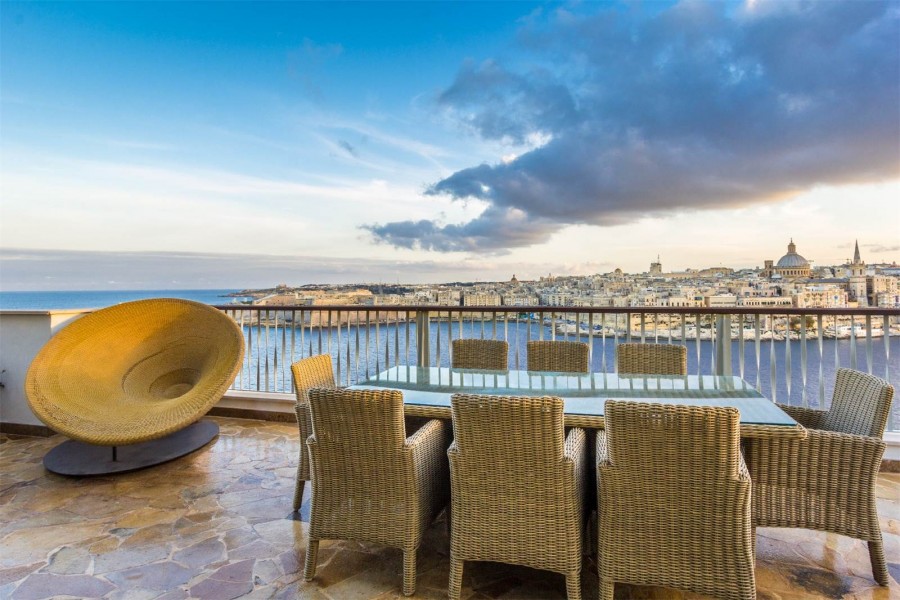 The benefits and beauty of living in a waterfront home are as vast as the stunning and unobstructed views enjoyed by these homes. Those who enjoy activities such as fishing and sailing will feel perfectly in their element, particularly if their residence is situated close to a Marina, harbour or river bank, offering direct access to the water. Simply being away from the hustle and bustle and breathing in the fresh air is already inspiring and restorative.
One of the most fascinating aspects of waterfront living is the fact that the proximity to the water inevitably affects life in the home, creating a unique offering and making it a distinctive lifestyle in its own right. The fact that this aspect is not available everywhere and is tied to the geographical location of the property increases its appeal and exclusivity. In fact, there is a common trend shared by numerous markets selling waterfront properties whereby the demand for these homes tends to be larger than the supply because they are highly desired and properties on the waterfront are in shorter supply than those further away. As a result, waterfront homes retain and increase in value over time, making them an excellent investment. In addition to a great resale value, these homes can also be an excellent rental investment. People want to rent these properties out due to the amazing views and lifestyle benefits they offer.
Although certain aspects of waterfront living can be enjoyed anywhere around the world – glorious skies and views and a high level of privacy and seclusion - waterfront lifestyles in different locations can be highly diverse, offering something new to look forward to with each destination.
Palm Jumeirah, Dubai, UAE: A world-renowned residential and tourism destination. It is home to luxurious villas, five-star hotels and white sandy beaches. Residents of Palm Jumeirah enjoy a distinguished address, spectacular views, glorious sunshine, an array of marine life and an exclusive lifestyle close to shops and entertainment facilities, yet away from the buzz of the mainland city centre. This penthouse is the definition of glamorous waterfront living, featuring elegantly renovated interiors and architectural elements, meticulously designed bedrooms, and a functional open terrace.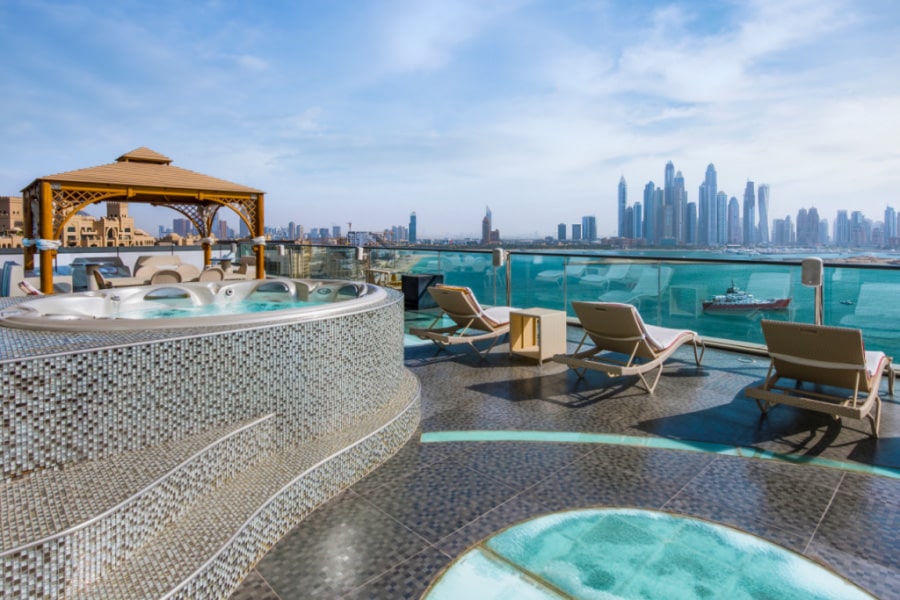 Palm Jumeirah, Dubai, UAE | Gulf Sotheby's International Realty
Malta: The lifestyle offering on the island of Malta, located in the heart of the Mediterranean Sea, is highly defined by its island status. With a land area covering just over 316 km2, the sea is part and parcel of the local lifestyle and visible even from inland areas around the island. Although the country is tiny, Malta's shorelines are diverse and dotted with quaint fishing villages, sandy and rocky beaches, historic fortifications, yacht marinas, popular tourist resorts and leisure establishments.
Waterfront homes in Malta enjoy mesmerizing open sea views of the Mediterranean waters. It is good to know that numerous luxury lifestyle developments on the island are located in very close proximity to the sea, offering a high-end property for sale in Malta, residences benefiting from the peace of mind and tranquillity brought along by a sea view such as the one enjoyed from this penthouse. Due to the shape of its harbour area, which Malta is historically famous for, this property does not only enjoy unparalleled sea views but directly looks out onto the almost iconic skyline of Malta's capital city of Valletta.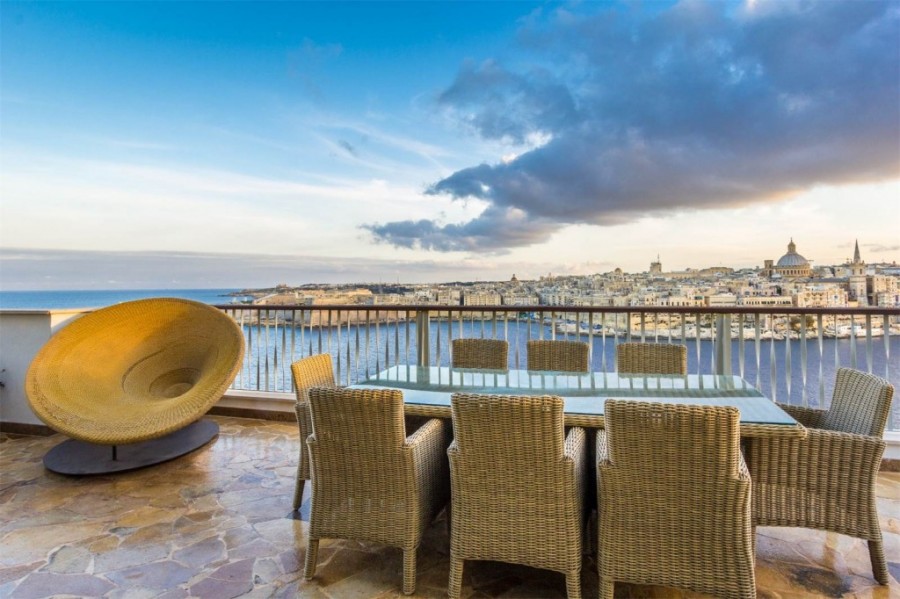 Tigne Point Luxury Development, Malta | Malta Sotheby's International Realty
Ibiza:
Another Mediterranean island, the third largest of the Balearics and an autonomous community of Spain, Ibiza offers an eclectic mix of sites to see and things to do, including World Heritage sites, unspoilt woodlands and rural extensions. Therefore, owning a sea view property in Ibiza means more than just the enjoyment of that vast blue expanse that so many people find so mesmerising. Due to its long offset shape and longitudinal positioning, most coastal positions will enjoy unobstructed views of either sunrise or sunset. Many believe the sunsets of Ibiza to be the best in the world, particularly those over Es Vedra. The luxury property market in Ibiza is at a peak at the moment, making this a good time to turn one's gaze towards the island and its properties. Located high on the cliff top area of Cala Moli, on the west coast, this modern detached villa has exceptionally well presented accommodation over two floors.
Cala Moli, Ibiza | Ibiza Sotheby's International Realty
Mallorca:
The largest of the Balearic Islands and full of outdoor appeal due to its golden beaches, sheltered coves, limestone mountain landscapes and Roman and Moorish remains. This lovely, completely refurbished villa situated in a prime location in Port de Soller, offers a panoramic view overlooking the sea, the harbour and the mountains. Port de Soller is a beautiful village situated in one of Mallorca's most stunning harbours on the island's west coast. Surrounded by the Tramuntana mountains while being close to the sea, this villa enjoys the best of both worlds.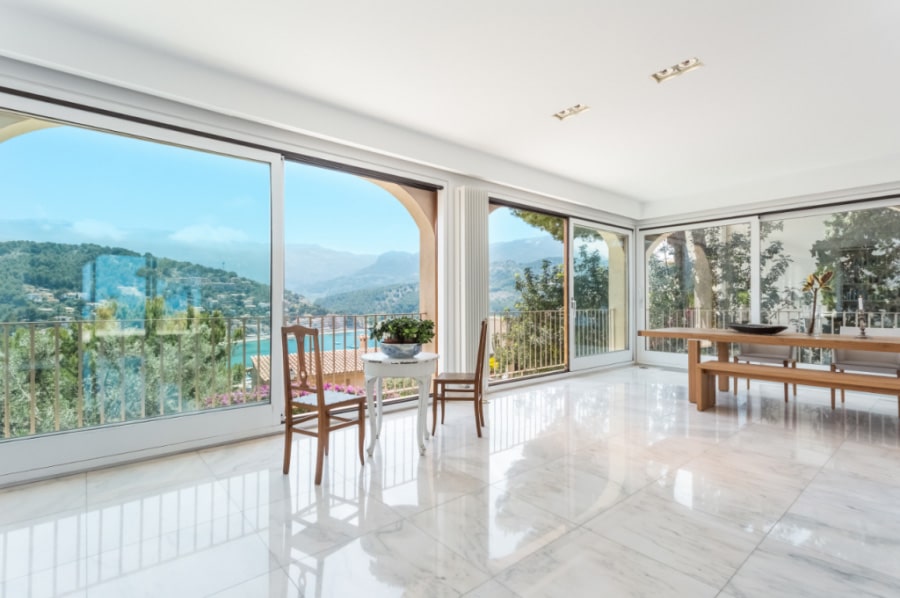 Port de Soller, Mallorca | Mallorca Sotheby's International Realty
Côte d'Azur:
Also widely known as the French Riviera, this is the south-eastern corner of France that touches the Mediterranean Sea and indisputably one of the most glamorous Mediterranean shorelines. The juxtaposition of urban sprawl, green hills and mesmerising blue waters makes it truly captivating. Along the years, the Riviera has become perhaps as famous as all the film stars, aristocrats, artists and writers that walked and lived here. It is a place full of legacies as present as all the fashionable resorts, secluded villas and eye-catching yachts berthed in its attractive ports and continues today to be a magical place where stories happen. Castel Mare, once home to Prince Henry II of Reuss is a majestic villa with direct access to the sea.  According to its heritage, this wonderful imaginatively sited villa used to be and still remains the winter escape of the imperial family of German Emperor Wilhelm II. Despite some modernisation, it is the antique furniture and the old noble bathrooms that keep the spirit of those wonderful former days at the Côte d'Azur alive.
Cap D'Ail, Côte d'Azur | Côte d'Azur Sotheby's International Realty
"Where none intrudes, by the deep sea, and music in its roar", writes Lord Byron. And even for less romantic hearts, open waters are often a representation of freedom and the sensational mysteries of the world, lying out there, waiting to be discovered. More than the eye-appeasing view, waterfront living offers a heart-appeasing lifestyle, allowing the mind to wander while the heart remains anchored at home.
For more information, kindly direct your request to info@maltasothebysrealty.com.
Back to Archive
Share this Article