Buying Property in Europe - The Current Housing Market & Past Statistics
International Real Estate News
20th August 2021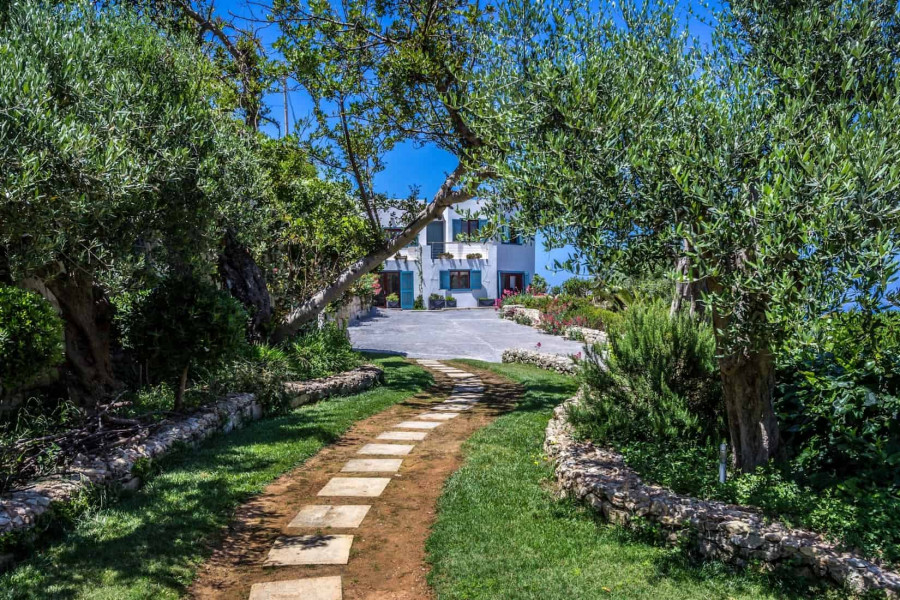 Buying property in a foreign country should never be done blindly or in the dark. While buying property in Europe is one of the best investments there is, it is also one of the riskiest. If you choose a poor location or you do not consider all your options, all your hard-earned finances could go to waste. 

Europe has an incredible market for property investment, but with Brexit in the background and the rising surge of house prices in the EU, you have to be careful where you buy property. This guide will see through the sudden house surge in the EU but also why you should still invest in property, nonetheless.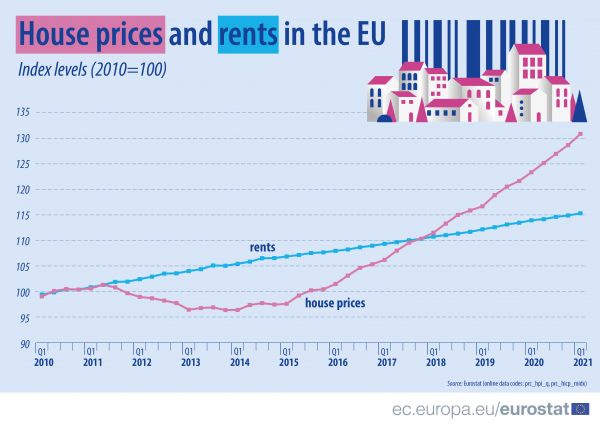 The Rising Surge of House Prices in European Countries
The European real estate market has grown considerably throughout the years. Since early 2016, house prices in the EU have surged by 4.6% year on year on average. The house prices increase has outperformed wages and GDP growth. This upward trend is not tied to any one place in the EU but can be seen all across European countries and cities.
One can say that the rise of house prices in Europe is due to a synchronised economic recovery which began in 2013 and gradually picked up in 2016, the year in which it boomed. This boom was accompanied by a rise in employment where the rate of unemployment in the EU dramatically dropped from 11% in 2013 to 6.3% in 2019. With a surge in the job market, we saw greater consumer confidence and in 2020, house prices increased more than inflation in all European countries.
The highest difference between annual changes of house prices and annual inflation rate can be seen in Luxembourg, Croatia, Portugal, Slovakia, Poland, and Estonia while countries like Ireland, Cyprus, Hungary, Finland, Spain and the Mediterranean Island Malta saw the lowest property price increases.
The annual deflated house index (HPI) can also be seen with significant differences between Member States, as seen in the table below.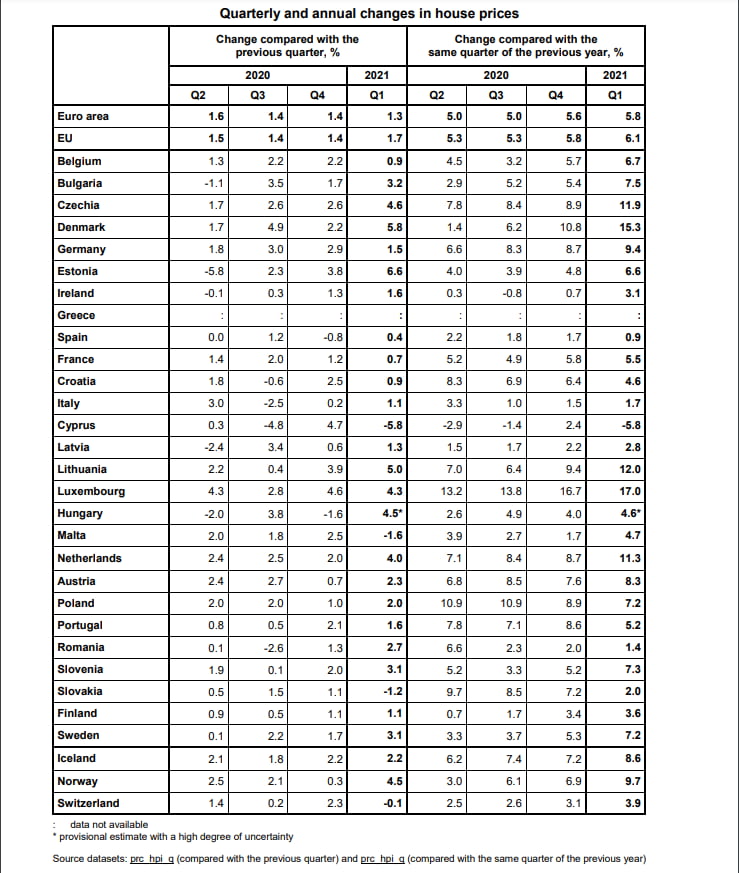 With the demand for housing rising, property prices have increased and with interest rates at an all-time low people have more and more begun to see real estate as an investment asset further giving rise to the property surges.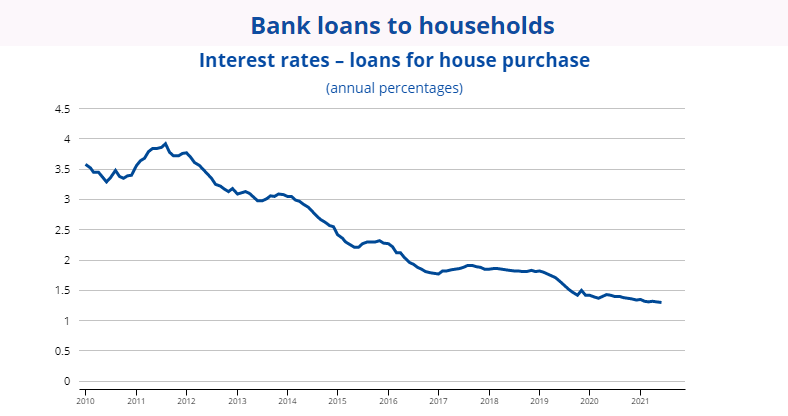 Cost of household borrowing for house purchases in European countries.
House prices in larger cities tend to be higher than the European national average which reflects a generalised trend towards urbanisation with larger cities seeming to attract more investment. This upward trend can also be seen in the rental market with house rents in the EU seeing an increase of 14.9% in the last ten years while the cost of purchasing property shot up by 28.6%.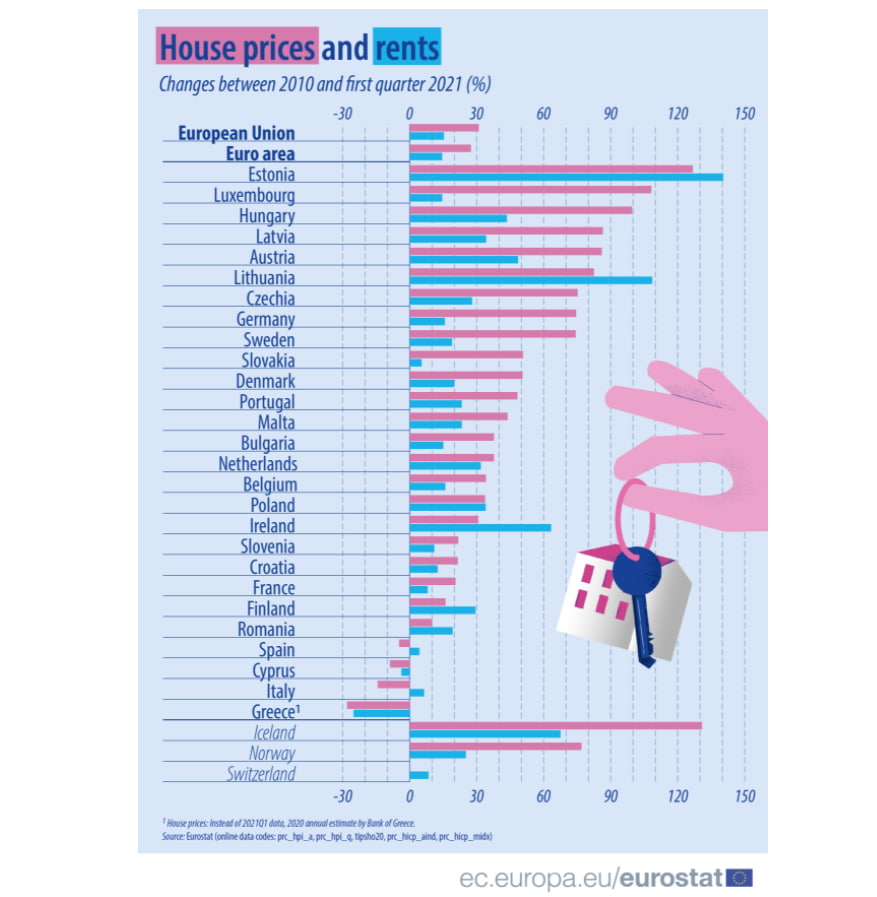 Why You Should Still Consider Buying Property in the EU
Even though it's challenging to find undervalued quality properties, it still holds the fact that buying property in the EU is one of the best investments. Real estate is equivalent to a secured bond in most European countries. In the EU, you have the potential for a better economy and higher inflation which will positively influence your property investment. 

Although higher interest rates have been predicted for a number of years the interest rates in the EU have remained and still are incredibly low. 

Before buying property in the EU, make sure that you have checked the country's fiscal implications and take note of the following;

·       The local taxes that you must pay (see table below of all the recurrent property tax prices. Malta is the only country that does not have a recurrent tax).

·       If you are subject to capital gains.

·       What happens to the property in the event of death?

·       Do you need to pay inheritance taxes?  
Tax on Property Acquisition and Recurring Tax
EU Countries

First Home Buyers Property Tax (commonly known as stamp duty)
Local Council / Municipal Property Tax 
Austria
3.50%
Yes
Belgium
0% on the first €175,000 12.5% on property over €175,000 (Brussels Capital Region only)
7–10% (other regions, depending on the property)
Yes
Bulgaria
0.5% - 3% depending on the local council
Yes
Croatia
3%
Yes*
Cyprus
€5.000 - 0%
€5.001-€170.000 - 0.15%
More than €170.000 - 2%
Yes
Czech
0%
Yes
Denmark
€188 + 0.60%
Yes
Estonia
0.3% - 0.5%
Yes
Finland
0% (13-39 years old)
Yes
France
5.8% (properties over 5 years old). 0.7% (new property)
Yes
Germany
3.5% - 6.5% depending on the state
Yes
Greece
3%
Yes
Hungary
2% on the first €13,000, 4% on the remaining property purchase price
Yes
Ireland
1% on the first €1 million, 2% on the remaining property purchase price
Yes
Italy
2% minimum €1000
Yes
Latvia
2% on the first €42,486
Yes
Lithuania
0.5%-3% depending on the local council
Yes
Luxembourg
€100 (for any purchase up to €285,714 for a single person or €571,428 for a couple)
Yes
Malta
0% on the first €200,000, 5% on the remaining property purchase price
No
Netherlands
0% on the first €400,000 (for buyers under 35 years of age), 2% on the remaining property purchase price
Yes
Poland
0.10%
Yes
Portugal
0.80%
Yes
Romania
0.50%-3% depending on the property value + 30% of the tamp duty
Yes
Slovakia
€66 for regular proceedings or €266 for fast tracked proceedings
Yes
Slovenia
0%
Yes
Spain
0.75%- 1.5% (0.3% for buyers under 35 years of age & disabled people)
Yes
Sweden
1.5%
Yes
*Only on holiday homes
Tips for First Time Home Buyers in the EU
Although, by now, we know that buying a home in the EU is a great investment, it can still be a stressful feat to tackle. Here are some tips to keep in mind if you are a first-time home buyer in the EU.
Determine your budget
Work out your budget and make sure that you have enough savings to enjoy life in your new home. Consider all expenses when buying a new property including your deposit, Property taxes or stamp duties, architect fees, notary fees, home and content insurance, life insurance, remodeling or upgrading costs, sundries, etc.

The next step is to contact your bank for a home loan. Here you can also see your options as a first-time buyer. The chances are that with interest rates being so low, the price of paying your monthly loan will amount to less than paying rent. 
Pick Your Location
Location is a top factor when it comes to investing in property. Whether it is by the sea or close to the city centre, pick a city/country in the EU that you can see yourself living for a long time. Consider your options and make your decision carefully. Do your own research when it comes to the real estate market and consider property upgrades. 
Work with the Right Real Estate Agency for You
It's easy…real estate agencies are always there to help. They are worth the investment because of their time and effort alone. Having a real estate agency by your side will help you filter out what you want and do not want without wasting your own precious time.

As your property expert, we at Malta Sotheby's International Realty realise that we are at the centre of your white glove experience with the Sotheby's brand. We understand that our role is more than just that of an agent, but also as your partner in finding a home or business premises that suit your vision for the future. We focus on servicing the luxury high-end residential and commercial property market in Malta and because of our Global Referral Network we can assist you with our network of more than 1000 offices in 75 different countries and territories worldwide, providing our clients with a full turn-key real estate service wherever they are. 

Interested in buying a property in the European country of Malta or elsewhere? Contact us and receive a service as elevated as your standards.
Back to Archive
Share this Article