Designing a Legacy with Francis Sultana
Luxury Lifestyle & Design News
14th May 2015
Maltese-born world-class designer Francis Sultana was featured last month in an exclusive interview given to Gareth Williams for Art & Home, published by Sotheby's International Realty. Francis Sultana is based in London as a furniture and interior designer and artistic director of David Gill Galleries.
---
Since moving to London at the age of nineteen to date, Francis Sultana has created five furniture collections, raised £3.5 million for the National Society for the Prevention of Cruelty to Children (NSPCC) and supported the Victoria and Albert Museum's fund for contemporary design acquisitions.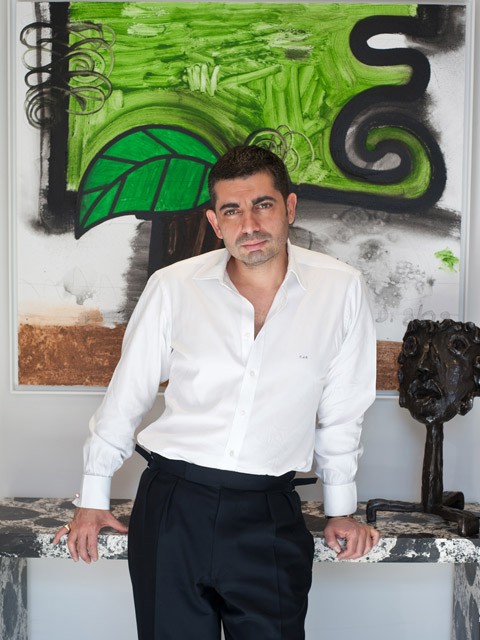 Maltese-born, world-class designer Francis Sultana, based in London.
We are delivering the highlights from this interview and providing an insight into the inspiring life, London home and remarkable work of Francis Sultana.
---
What were his first design influences?
Soon after arriving in London, Sultana started working for David Gill at the gallery he had opened in 1987, selling mostly 1920s and 1930s articles, however a 'seminal' moment in Sultana's life, as he describes it, is when he saw photographs of Le Corbusier created for the art collector Charles de Beistegui on the Champs-Élysées.
The movie room in Charles de Beistegui's apartment, featuring Emilio Terry's chair (left).
"I think chairs are pivotal historical pieces,"
says Sultana.
"There are only three 20th century chairs I would wish to have: Eileen Gray's Dragon Chair, Emilio Terry's chair from the Beistegui apartment which I am lucky enough to own and Shiro Kuramata's Miss Blanche chair, which I also have. It brings me great pleasure every day when I look at that chair."
---
About his approach towards working with clients on their homes
Most of Sultana's clients are avid collectors of contemporary art pieces, therefore he understands what they are collecting and the art they have. They are intrigued and fascinated by this art and want to know more.
"Every home I design is not about me, but about the people who live there. You have to embrace the character of a person, and when you walk into a home you have to feel you are in the home of that person,"
says Sultana.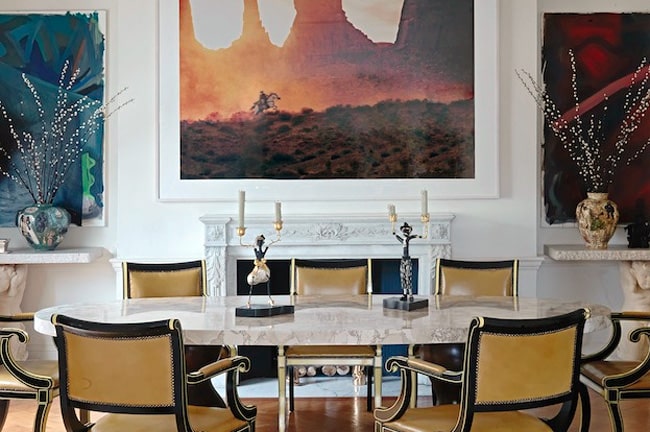 Francis Sultana's dining room in his London home.
---
On the combination of Sultana's work with his client's collections
"It is beautifully crafted and is tailored like a good suit: it pulls a room together."
Sultana's work is made of high-quality, enduring materials such as bronze. His furniture works well and acts as a foil for both vintage furniture and contemporary design without overpowering them.
---
Using his skills for good causes - On his work with the National Society for the Prevention of Cruelty to Children and the Patron's Committee for the V&A Design Fund
Sultana is one of the twelve members of NSPCC Rebuilding Childhood Board. Recently, the board worked on an initiative to bring art therapy to children for whom regular therapy had not worked. For the last few years, he has also been the creative director of an annual fundraising ball.
"We will hold the next one In June in partnership with the Masterpiece London and the theme is Neo-Romantics."
Sultana is also the Chair of the Patron's Committee for the V&A Design Fund that raises money with which the V&A can purchase contemporary design objects for the permanent collection. The V&A is a place that means a lot to Sultana.
"I did not have any formal design and art training, so the V&A was a place that taught me a lot, and I feel I owe something to it. I think it is one of the most wonderful places, and it is free."
Such institutions need to be supported because they are able to give young people from any background the opportunity to see creative things and to grow. The third year of the V&A's acquisitions was hugely successful and the fundraising targets for the fourth year have already been reached.
Francis Sultana's drawing room in his London home, featuring Emilio Terry's chair (left) from the de Beistegui apartment.
---
What lies ahead of Francis Sultana?
"I am designing the restaurant for the Pavilion of Art and Design (PAD) in London this October. It is a piece of theatre for the five days during the fair, and somewhere a lot of people will visit and enjoy. I am also designing my first yacht interior for Royal Huisman company that needs to be all about weight distribution and weightlessness - my furniture uses a lot of bronze, so they do not really go together! Now I have to work on creating the look without the weight. I like challenges like that."
---
For more information, kindly direct your request to info@maltasothebysrealty.com
Back to Archive
Share this Article