15 Clever Ways To Decorate Your Outdoor Space
Luxury Lifestyle & Design News
22nd August 2018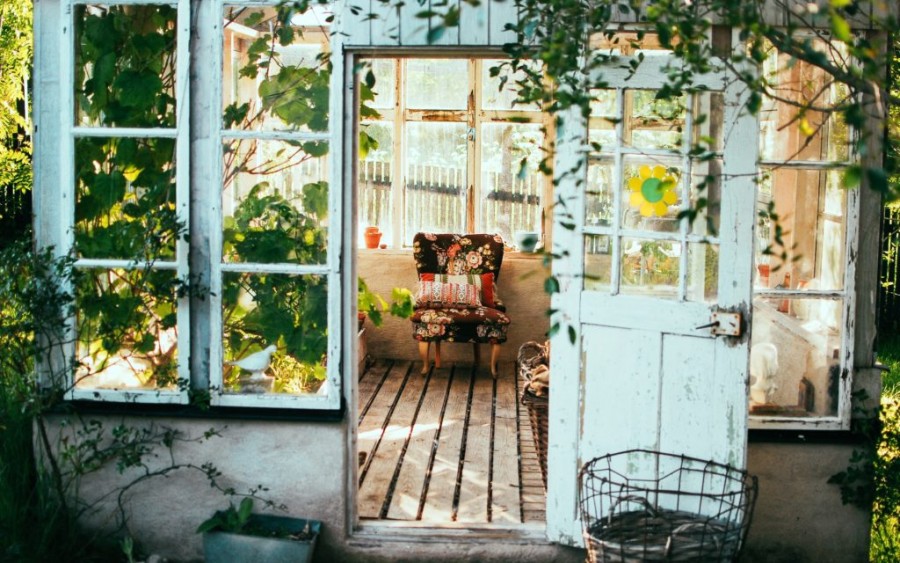 Decorating your front yard, backyard or patio can be a very fun project. You can get extra creative when it comes to decorating an outdoor space and express yourself through outdoor living. The openness and natural light of an outdoor space make decorating it more flexible with fewer limitations on color pallet and design. Don't know where to start or how to decorate your outdoor space? Well, you've come to the right place! Here are 15 clever, inexpensive ways that will get you started today!
1. Upcycle Old Furniture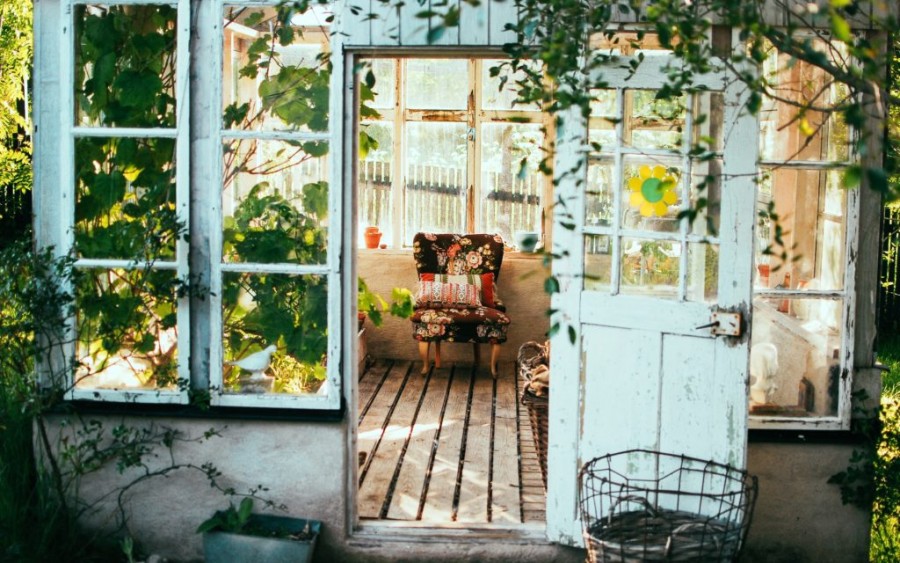 One of the best things you can do whenever you decorate any part of your home is upcycling old furniture. You can use anything from old chairs, dressers, tables, mirrors, or pretty much any kind of thing that screams "vintage" or "antique." Don't really think it's wise to sit or use an old table or chair? Well, you don't actually have to use old furniture. You can simply transform it into something else. Try placing small potted plants on an old chair or table to get a vintage garden look or quaint plant display.
2. DIY Wood Deck
Another clever way to decorate outdoor space is a DIY wood deck. What's great about wood decks is that you can easily make custom ones for small patios or huge backyards alike. You don't even have to be an expert at carpentry to make your very own outdoor wood deck. There are plastic decks that look like wood, they are cheaper and last longer.  You can also try making a wooden deck with simple wooden pallets. You may even try giving your wooden deck a more rustic feel by mixing up different types of wood. Wooden decks can be installed in
pool areas
, an alternative to outdoor tiles.
3. Paint The Floor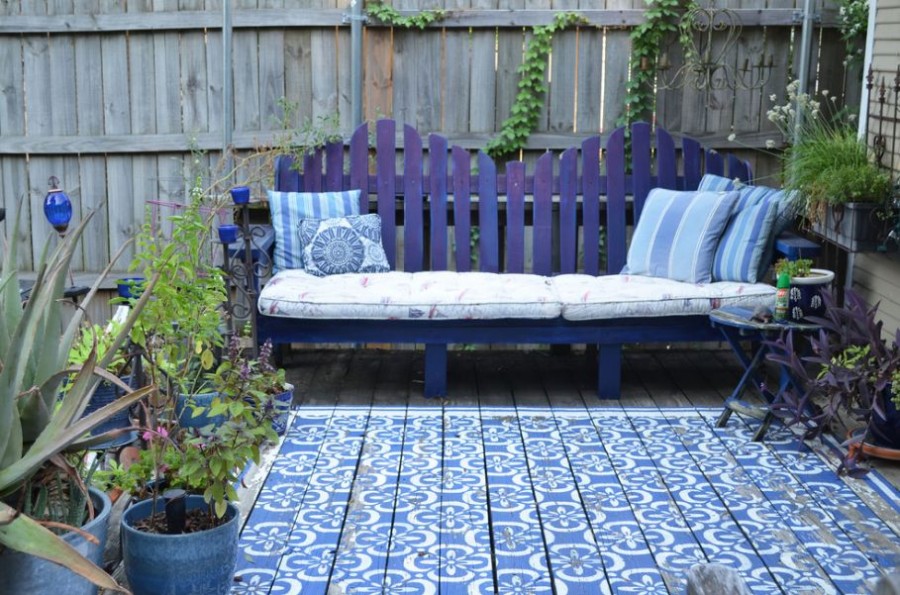 Adding a splash of color to your patio or balcony floor can help you make a rather bold statement. You can try painting your floors with bright colors like blue, yellow, orange, white, and pink to make your space look extra lively and vibrant. If you don't have much space to work with, you may want to opt for two-toned floors. Dividing your floor into two by painting it with different colors can help you break up small spaces. For example, you can divide your balcony or patio into separate areas for lounging, eating, barbecuing, etc. You can also get creative and use stenciled prints.
4. Put Up Outdoor String Lights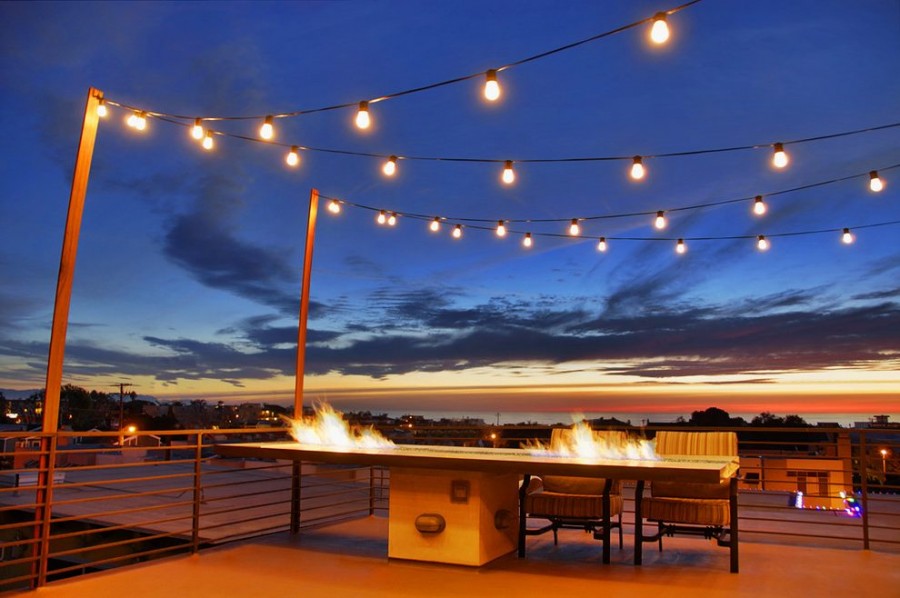 String lights aren't just for bedrooms and photoshoots, they're great for adding a romantic vibe to any outdoor space as well. String lights are great for small outdoor spaces like balconies and patios. Unlike other types of hanging lights, string lights look less cluttered in small spaces. To effectively create that romantic and chill vibe for your outdoor space, try finding something you can wrap string lights around. If you don't have any railings or hooks for your string lights, you can always try wrapping it around your outdoor furniture. You may also try putting up several poles to hang up your string lights across the entire space.
5. Go With A Vertical Garden.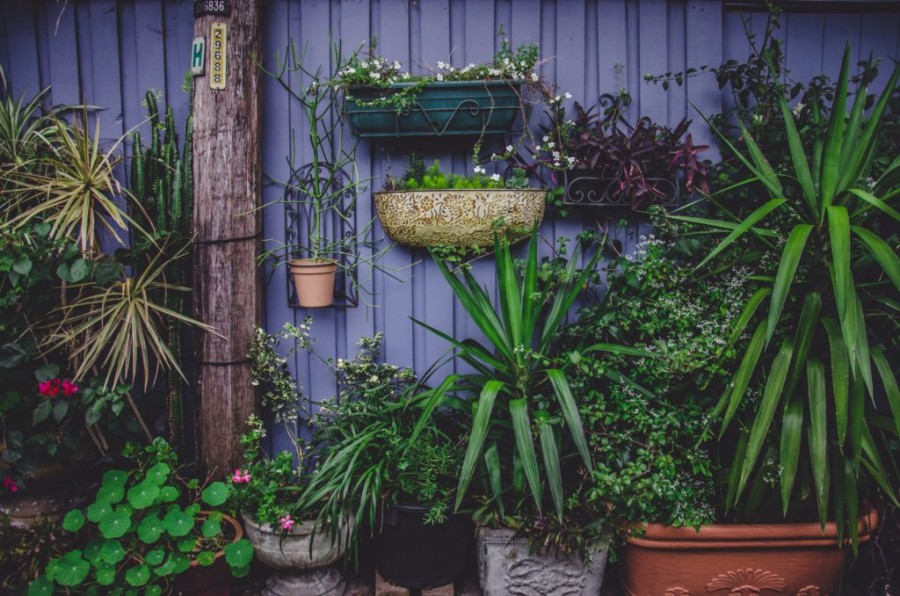 Don't have much space to put up a garden? You can use the walls of your garden to make a vertical garden. This works well for small
apartments with a yard
. Hang up several plants in a bare or partially bare wall and you'll end up with a cozy yet organized looking garden. All you really need is a couple of hooks or nails to hang up your plants. If you want, you can even try adding hooks to your balcony or patio ceiling and keep your plants hanging from the ceiling.
6. Build A Stone Patio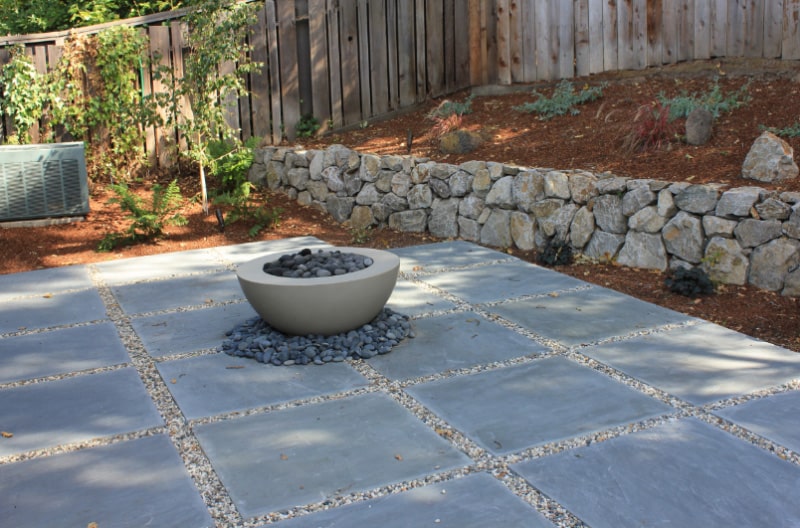 There's just something about laid pieces of stone that can make any outdoor space looks amazing and high end You can use cement, brick, or terracotta tiles to add more textures to your outdoor space.
Tip:
you can even use a mix of stone tiles to divide your outdoor space into several areas. Don't really have the budget to lay stone tiles? Don't worry. You don't have to go all the way with stone. In fact, you can mix stone with pebbles and grass or potted plants for a more balanced feel.
7. Use A Small Bench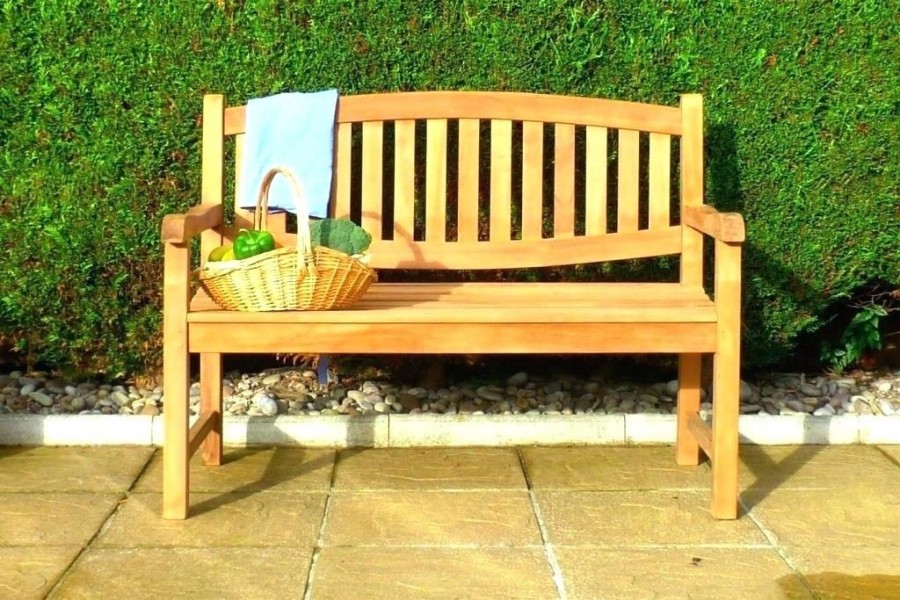 You don't have to get a lot of chairs or a huge one to find comfort in a small outdoor space. Think about it, how often do you even sit outside or how many guests do you usually accommodate out there? If you don't really hang out much in your outdoor space and if you don't usually have many guests, then you may be able to get by with a quaint little bench. A small bench is a great piece of furniture that you can use to sit on or to place certain objects on.
8. Mix Up Your Furniture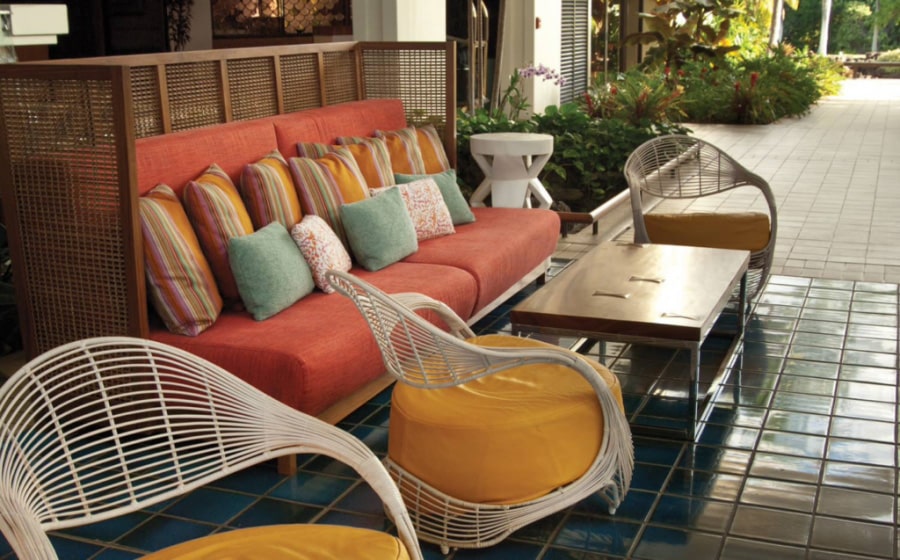 When it comes to decorating spaces, people usually end up using matching furniture. There's nothing wrong with using matching tables and chairs, but that doesn't mean you should be afraid to try mixing up things a little bit. One of the simplest secrets to ending up with a great outdoor decor is using mixed pieces of furniture. Using different pieces of furniture in an outdoor space can give off a cozier vibe. For best results, try choosing chairs and tables with different textures and styles.
9. Add Some Outdoor Curtains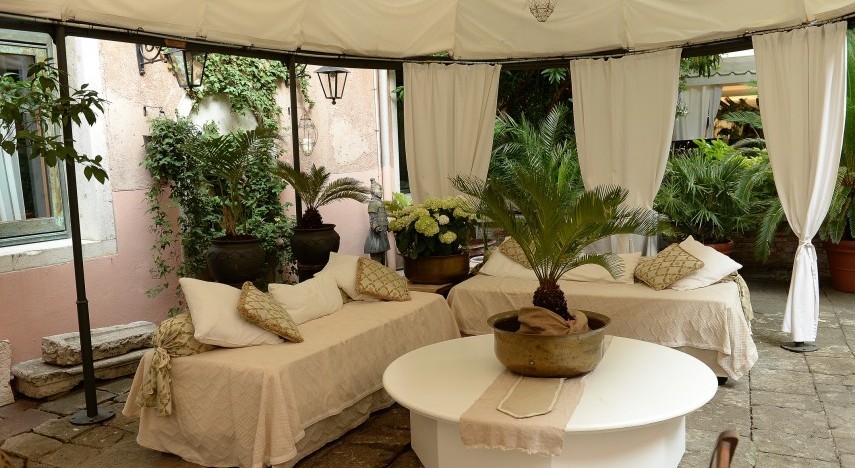 Curtains aren't just made for indoor windows, they can be used to add personality to any outdoor space as well. My most favorite kind of outdoor curtain bamboo blinds. They're very rustic, cheap, low maintenance, and ideal for most types of weather. Bamboo blinds also let the breeze in, which makes it a great option for balconies. If you're not really into bamboo blinds, you can always use regular curtains for added privacy outdoors. You may even use curtains to divide your outdoor space into several different areas.
10. DIY Flower Boxes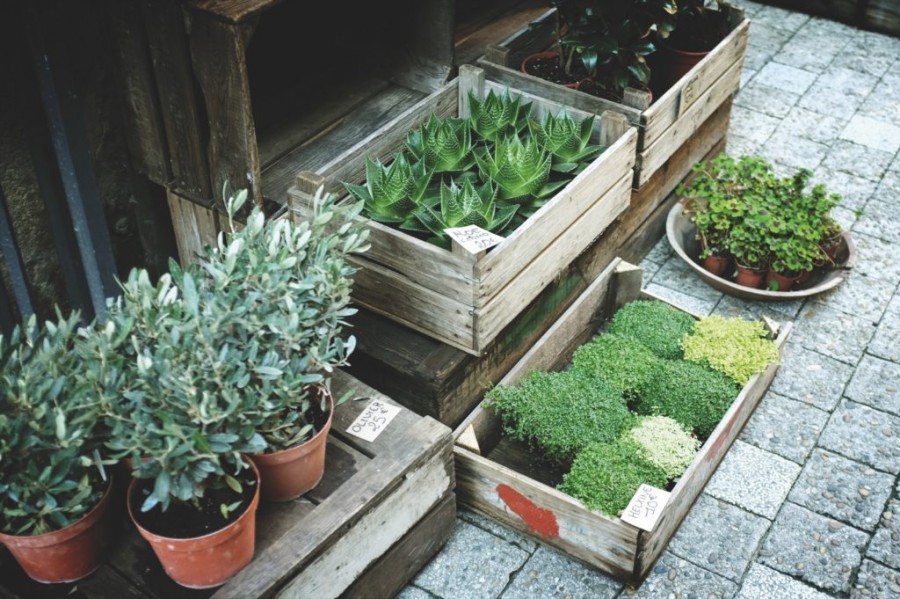 Potted plants are a classic, but flower boxes are just more 2018. What's great about flower boxes is that you can easily make them on your own. If you're not really into DIY projects, you can always buy small crates from local stores. Aside from the fact that flower boxes come in quite cheap, another great thing about flower boxes is that they are completely stackable. This means that you can easily add it to your outdoor space even if you're working with a small balcony or patio.
11. Hang Up A Couple Of Bistro Lights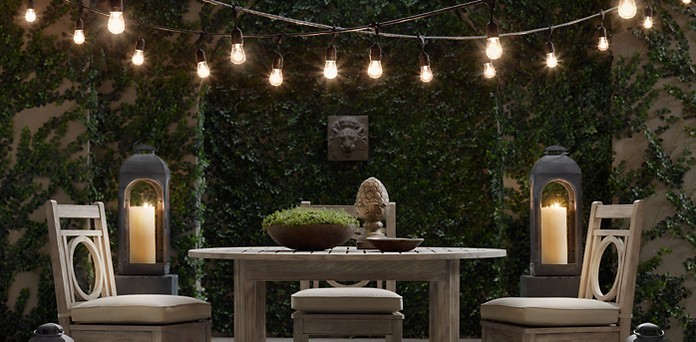 Need to brighten up your outdoor space with more lights? Why not use a couple of bistro lights instead? You can easily light up a small balcony or patio by hanging up a single string of bistro lights across the entire space. You can easily buy a couple of bistro lights from your local hardware store. You can even order some online. If you have the time and extra money, you may even look for bistro lights that come with patterned, colored, or plated pennants.
12. Make A Dining Nook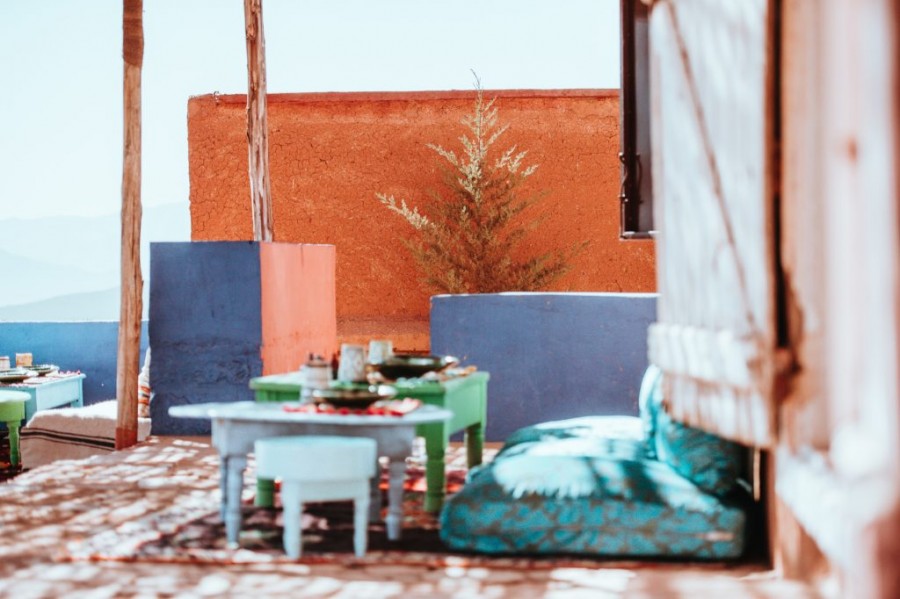 Turn that outdoor space into a nice dining nook for a fine night of alfresco dining. You can use a small bistro table or a small coffee table along with throw pillows or foldable chairs to make a nice outdoor dining nook. If you don't have much space to work with, I suggest you stick to low tables and small pillows for comfortable seating. It will make your space look less cluttered and cozier.
13. Decorate With Rocks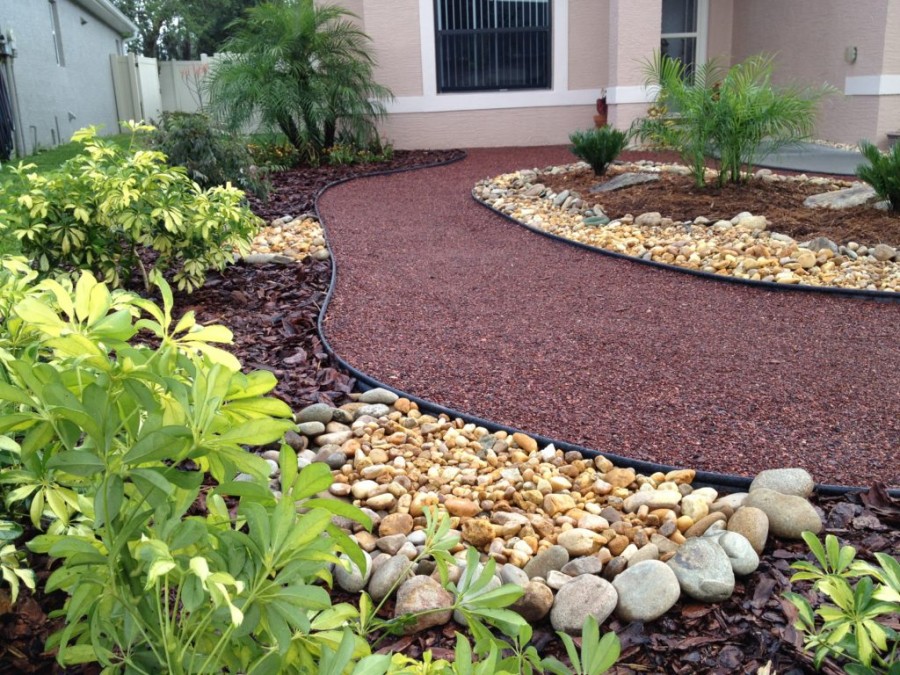 If you want to get that zen or Asian vibe, try throwing in a couple of decorative rocks in your outdoor space. Pebbles are a popular choice that you can use to create a walking path or to add accents to your garden. You can even choose from different colors including white, black, gray, and brown. Don't want to buy pebbles? Well, another thing you can try with rocks is painting them with patterns or different colors. Painted rocks make for great decorations to get a bohemian or rustic feel.
14. Light Up Your Garden Paths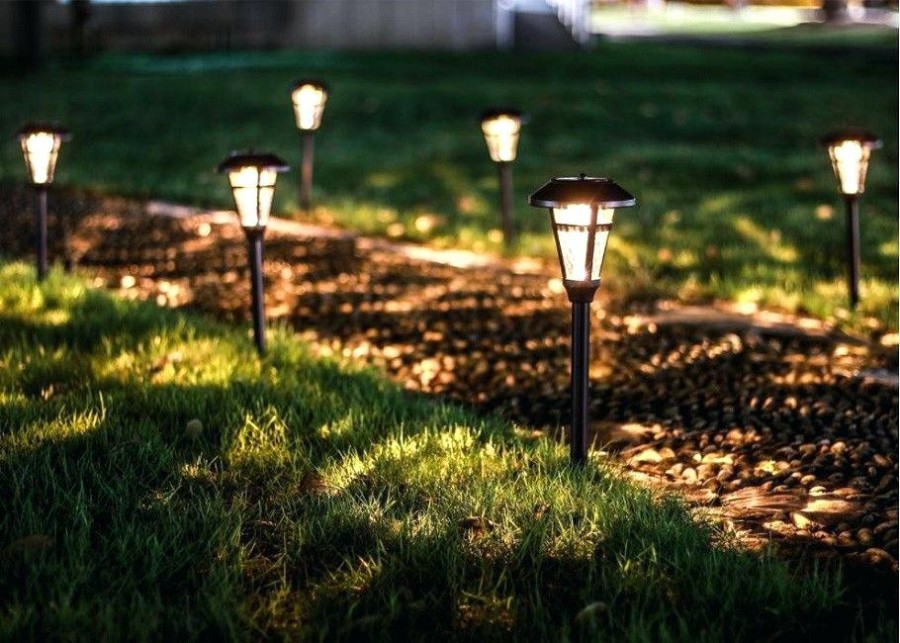 Walking outdoors at night can be risky and hard. Stop stumbling your way through the dark by lighting up your garden paths. You can use solar lights, string lights, lamps, and rope lights. The type of light you use would, of course, depend on your personal preference. However, if you're looking for something simple, modern, and affordable, I highly suggest you go with rope lights. They're cheap, easy to find, and are usually weatherproof.
15. Light Up Your Trees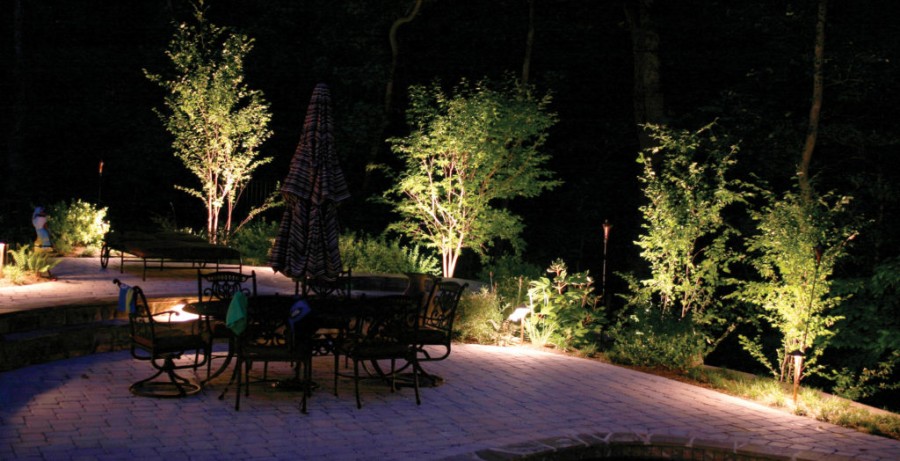 Adding lights to pathways, walls, and furniture is a great way to light up any outdoor space. However, if you feel like getting extra creative, you may want to add your lights to a tree or a tall potted plant instead. Adding lights to trees and plants give off a cozy and romantic feel. And aside from making your plants look great, adding light to plants can help draw insects away from you. Decorating your outdoor space is a proven way to increase the value of your home.
Back to Archive
Share this Article