Should You Buy or Rent an Office Space in Malta?
21st April 2022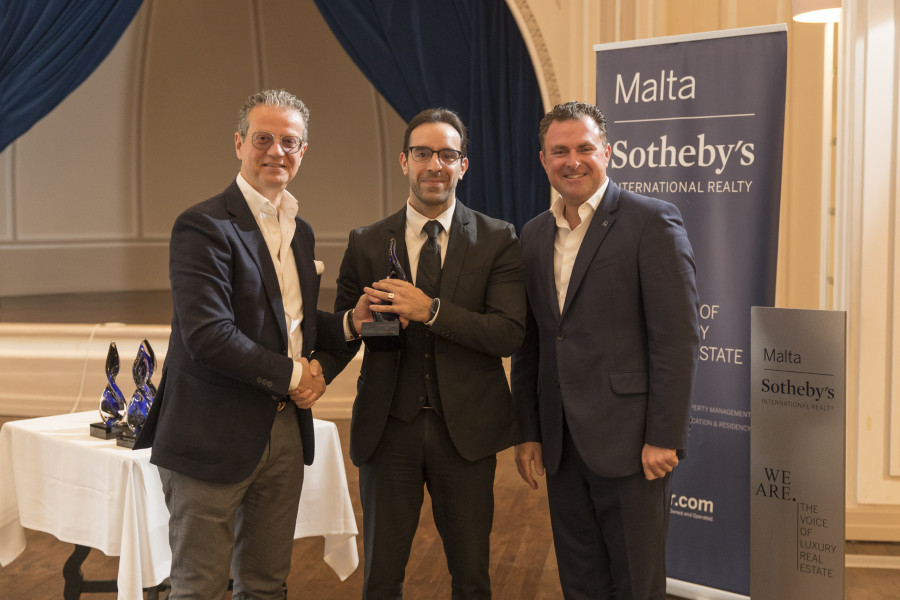 Director & Joint Owner, Malta Sotheby's International Realty Michael J. Zammit, Letting & Commercial Agent Alexander Tadj, Director & Joint Owner, Malta Sotheby's International Realty, Roger
The argument for renting or buying an office space in Malta is a complex yet simple one. It all depends on your individual business needs, your goals and how much capital you have to invest. 
As a commercial real estate agent at Malta Sotheby's International Realty, this is a question I am often asked by clients and the best advice I can give to a prospective tenant or buyer is that you must take the time to go over your business plan, explore the goals and forecasts of your business, what your main Key Performance Indicators (KPI's) are and analyse what method of acquiring an office space works best for your company. 
There are pros and cons to both buying and renting office space in Malta. Here we will discuss the benefits and disadvantages of each option to find out whether renting an office space in Malta is the best choice or if you should opt to purchase a business premises.
Renting an Office in Malta
Renting is a very attractive prospect for young and small businesses. For those with limited capital like many start-ups renting allows for smaller overheads. In addition, many new entrepreneurs to the island may not yet be ready to commit to the responsibility of purchasing, and find renting an office space a great way to test the waters.
Renting allows business owners to explore how their business works in practice and it is a great way to learn and make mistakes without too much commitment, alleviating some of the stress that goes hand in hand with operating a business.
Benefits of Renting
-         Initial Capital Expenditure: Young businesses will usually have limited funding, so finding an office space that is versatile enough to grow with the business at a substantially lower amount (compared to purchasing) is very appealing, and very often the only option available. 
Any business relies on having a good cash flow and capital reserves, this is especially true in the first few years. Having the option to reject spending a relatively high percentage of capital on purchasing a property allows you to spend more on attracting highly skilled staff, your marketing, product or service development etc.
-         Time frame: Young businesses need to start generating income as soon as possible. A lot of initial costs are incurred during the business set-up phase so breaking even as early as possible is a top priority. 
Renting an office space in Malta is an exceptionally fast process. Once a price is agreed on the typical time frame for a business to be fully operational is one to three months. On occasion, there may be some factors that can delay this process which is why planning and knowing what your business needs are up front is crucial.
-         Flexibility: While lease lengths in Malta will range from one to ten years, there are usually clauses in the lease agreement that allow the business to break the lease after a certain period of time. This is beneficial for a few reasons. 
Firstly, and not ideally, if the business does not perform as well as expected and the company needs to close or downsize, this can be done without having too much capital tied up in an asset that may not be adding value to the business' core KPI's. Secondly, should the company do exceptionally well and has outgrown the current space, then moving into a larger office is a very simple process. You have the flexibility to be proactive when it comes to your premisses depending on the company's performance, ensuring optimisation of resources and time. 
-         Lower Maintenance Costs: When renting if there are any structural or larger issues with the property, for example; electrical systems, HVAC appliances, lift maintenance, and other costs associated with owning a building or office space, these costs will be absorbed by the landlord. 
While this is not always a huge capital drain it can add unnecessary stress, and consume time. If the works are not executed to code the costs can add up. So having someone else bear this responsibility provides you peace of mind.
- You can find out more about the costs involved with renting an office space in Malta by reading our previous article Renting an Office Space in Malta.
Cons of renting an office in Malta
-         No Capital Appreciation: As you do not own the underlying asset no equity will be built. While this is not a huge issue for some, for more established businesses that are used to streamlining their capital, this could be a cost that they do not wish to bear.
-         Increasing Rents: Your rent will more than likely increase each year. The exact figure is something that can be negotiated at the start of the agreement; however, it is common to be in line with inflation, or a set percentage figure. 
-         Difficult or No Responsive Landlords: If you do not choose your landlord well, or work with an agent who can filter the good from the bad for you, you may be left in a situation where the owners are slow to respond to requests or have no flexibility when it comes to payment schedules. 
-         Less Control: Any changes that need to be made internally to fit your growing business will need to be approved by the landlord. This can lead to time lost, and potentially a rejection of the proposed changes which could affect the short-term operations of the business. 
-         Long Term Planning: To a certain extent planning long term is more challenging when you are at the mercy of the landlord. Are they going to terminate the lease? Are they planning to sell the office, in which case what will the new owner have etc.?  
Some of these challenges can be addressed before any agreement is signed, however, this is not always guaranteed and it is not always possible to predict the new owners' priorities. 
Buying an office in Malta
While renting has a lot of advantages, you need to understand where the business is in terms of its lifespan and how much capital it has to allocate to investments outside of the core business activities. 
Businesses who choose to buy a commercial property in Malta are usually older and established or international companies that have already gone through the challenging initial stages and have a clear understanding of the local market and the benefits of owning appreciating assets.
Benefits of Buying
-         Capital Appreciation: If a company is in a position to buy an office space as opposed to renting an office this is an obvious advantage. Renting does have its benefits, however being able to buy an asset that will more than likely appreciate with time is good for the balance sheet, future financing and future capital growth prospects. 
In many countries where companies buy the space they are operating in, a large portion of their valuation can come from the underlying assets and equity that they hold, in this case, the office space. 
-         Potential to Rent: Some clients will identify an office space that works perfectly for their individual needs, and buy the building as opposed to just a single office. This allows them not only to use the premises for their operations, but also to generate additional income from renting out other units within the building, or development. 
Having a rental income alongside the core business adds another revenue stream, diversifying and spreading your risk profile. Buying an office in Malta should only be considered if the company has ample resources and can allocate capital and time, while not affecting its core business.
-         Security: Unlike renting an office in Malta, when you own the space, you have security in the fact that the space is yours. When renting there is always the possibility that the owner may want to terminate the lease after the Di Fermo period, or they may wish to sell the property, meaning a change of owner. 
When buying an office in Malta you own the asset and can therefore be confident that your long-term business goals will have fewer variables outside of your control. 
-         Reorganisation of the space: As the company grows the layout of the property may need to be changed to optimise the space. This is possible when renting an office in Malta, however, any internal alterations need to be approved by the owner, who will have the final say on whether it is possible or not. 
This can take time and may not have the desired outcome. When the space is owned by the company any internal changes can be affected efficiently, which makes planning easier and less time-consuming. 
Cons of Buying
-         Upfront Costs: You will need to pay substantially more to buy an office instead of renting one. Not only will you have to pay the deposit, but also all the taxes and fees that go along with a property purchase. 
-         Lack of flexibility: Should you wish to change your premises for any reason, then selling and buying another office can be very time consuming and costly. Especially if you need to sell in order to buy. 
-         Additional Payments: As the property owner you will need to pay for any maintenance, upkeep, repairs, fit-outs etc. Depending on the quality of the office build these expenses can quickly add up, and cost you valuable time. 
-         Potential for capital depreciation: Property prices tend to go up, however, there is always a capital risk should the market be impacted by unforeseen circumstances.
-         Time: Generally, there is more diversification in the rental market with regards to what is available and where. When looking to buy an office the options may be more limited and of course, the process is longer, even when you have found the perfect office. 
Once again this comes down to planning, and if you have not allocated sufficient time to find an office you may find your options extremely limited. For both methods of acquisition, you will be able to offset the expenses of renting or buying an office in Malta against your taxable income. This includes any lease payments, mortgage interest payments, insurance costs, refurbishment costs etc. 
In cases of renting an office space in Malta, you will also be able to offset the VAT paid for the rental, against any VAT taxable goods or services that your company offers.
When deciding on renting or buying an office in Malta, it is paramount that you take into consideration several factors, most importantly if either method of acquisition will enhance the business and which one is more in line with the company's objectives, both short and long term.
If you are considering renting or buying an office space in Malta and have any questions then please do not hesitate to reach out to the Malta Sotheby's International Realty commercial team on +356 2010 8077 or visit our website at www.maltasothebysrealty.com
Back to Archive
Share this Article